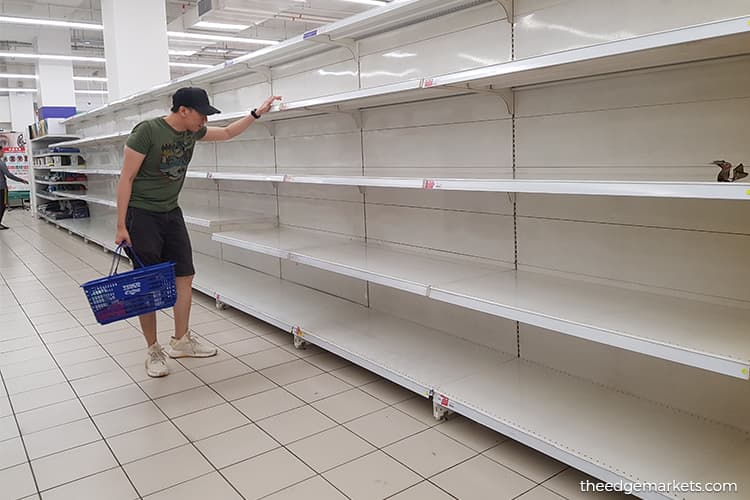 When Prime Minister Tan Sri Muhyiddin Yassin announced on March 16 that movement restrictions would be imposed to stem the spread of Covid-19, people panicked as there was little more than 24 hours to stock up on supplies. 
Supermarkets, mini markets, convenience stores and even neighbourhood groceries were already stripped off the regular household essentials by panic shoppers the week leading up the Movement Control Order (MCO). Those that had not seen it coming ended up queuing for hours just to check out the little they could acquire in those crucial hours. 
But technology-savvy folks opted to skip making the arduous journey and having to adhere to social distancing protocols, resorting to online groceries and delivery services. "In a day, the demand increased by more than 1,000 times," says Stephen Francis, founder and CEO of MyGroser Sdn Bhd. 
Within days even the fully online grocery store was running low on provisions. Even their suppliers and stockists were not then able to stock provisions fast enough given the sudden rush. 
"When the MCO started, we were inundated with orders. The team had to take down the website that night so that the servers could deal with the traffic," says Francis, adding that they had to bolster their existing servers, more than double their delivery capabilities and improve their packing systems. 
While it managed to respond to the sudden increase in the number of orders, MyGroser had faltered on its assurance as a premium grocery service that promised 100% delivery the first few days into the MCO, he says. "While the majority of our clients were understanding, this was something we needed to address."
It then started accepting orders up to seven days a week to make good on its promise. Francis hopes to be able to implement pre-booking up to 30 days in the coming weeks. 
Unprecedented the MCO may be, Malaysians, at least in the major cities, have adapted to a new way of shopping overnight. 
All-round service and delivery company Grab hastened to improve its offering by complementing the service to include Pasar, where its personnel shop for customers at the TTDI market, and GrabFood Tapau, which offers customers a wait-less, cashless and contactless "self-pickup" option. The objective is to not only help restaurants generate more income but also help customers save time and avoid crowds, says Grab. 
While this has proved to be beneficial for delivery businesses, grocers appeal for patience, reminding customers that riders and shoppers are putting themselves at risk by making frequent trips.  
Online delivery service HappyFresh, which offers handpicked items from supermarkets and speciality stores, issued a statement to its customers saying that the service provider has been working at maximum capacity to help customers get their groceries delivered.
"Unfortunately, the footfall in stores is increasing and with the implementation of social distancing, we must also consider the additional time that their shoppers and riders require to complete an order," says Hu Hun Hui, managing director of HappyFresh Malaysia.
Hu says their shoppers have to queue up to 40 minutes at checkout and weighing stations, in addition to perusing shelves that have been emptied out by overzealous individuals, before they can update the stock status on the orders. 
"They have made the choice to work [despite] knowing that they run the risk of getting infected by the virus. So, we practise voluntary attendance in these hard times. With the limited manpower we have on the ground and the overwhelming demand, we are afraid that we have to cancel or reschedule your order," he says.
 "As we see out the remaining days of our partial lockdown, on behalf of HappyFresh, I ask for your humble patience and understanding as we attempt to fulfil your orders smoothly." 
Similarly, Tesco Malaysia CEO Paul Ritchie asks consumers to only order what they need to get through this difficult period. "Our stores have been much busier than normal as many customers are stocking up on everyday items. Although customers may find a few items unavailable due to high demand, I would like to reassure all our customers that new stock is arriving all the time and our amazing colleagues are working around the clock to fill the shelves in our stores as quickly as they can," he says in a statement.
"We are also working closely with suppliers to maintain the supply of all key products, especially fresh and frozen foods, grocery and essential non-food items. We ask customers to shop as they normally would and buy only what they and their family need. We understand the concern, but buying more than needed can sometimes mean that others are left without. There is enough for everyone if we work together." 
For those braving the stores, Ritchie recommends using Tesco's Scan & Shop app, which enables customers to keep track of their spending as they can scan the items themselves. Then, customers can head over to the self-service checkout counters or cashier counters, provide the app-generated barcode and pay without the need to remove any of the items from their baskets or trolleys and without the need for a cashier to scan those items. 
This ensures that customers continue to practise social distancing in stores.
For those who would rather shop online, Tesco Online now imposes a temporary quantity limit to a maximum of three units of each item purchased. This is to maintain efficiency in delivering and serving customers, says Ritchie.