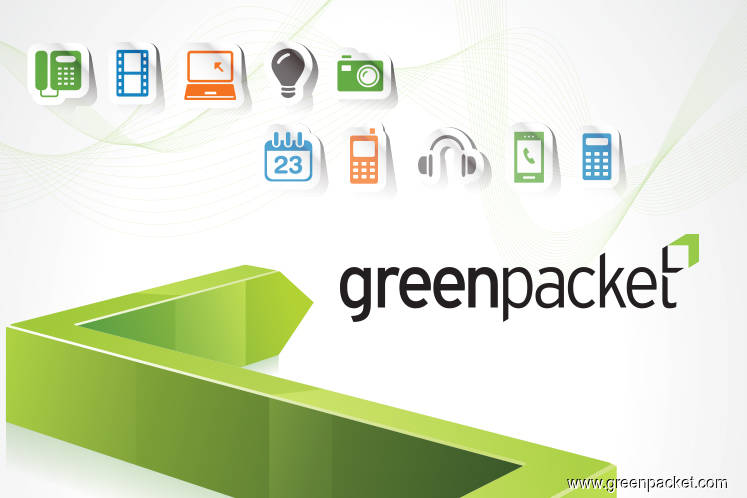 KUALA LUMPUR (June 22): 4G network operator Green Packet Bhd plans to raise as much as RM52.57 million via a renounceable rights issue on the basis of one rights share for every five existing shares held, together with warrants on the basis of three warrants for every one rights share.  
In a filing with Bursa Malaysia today, Green Packet said the proposal will see 150.2 million rights shares and 450.6 million warrants issued.
It said the board believes the cash call will strengthen the group's financial position with enhanced shareholders' funds and reduced gearing level, as compared with bank borrowings which are expected to facilitate the continuous long-term growth and expansion plans.  
Green Packet said the issue price of the rights shares will be fixed at no less than 35 sen each, in order to achieve a minimum amount to be raised of RM13.11 million from the proposed rights issue with warrants, assuming minimal subscription level.  
"In any event, the board shall take into consideration the prevailing market conditions and market prices of Green Packet shares at the price-fixing stage, and may fix the issue price of the rights shares, subject to a maximum allowable discount of not more than 35% to the theoretical ex-rights (TERP)/ ex-all price (TEAP) of Green Packet shares, based on the five-day volume weighted average market price (VWAP) of Green Packet shares, immediately preceding the price-fixing date," the filing said. 
The warrants will then be issued for free to the shareholders who subscribe for the rights shares.  
Green Packet added that its board of directors has ensured that the company will not purchase, sell or cancel any Green Packet shares currently held as treasury shares, pursuant to the company's share buy-back programme, until completion of the proposed rights issue with warrants. 
In a minimum scenario, where Green Packet managed to raise RM13.11 million, the proceeds will be utilised for purchase of trade equipments under its solutions business segment, general working capital to finance day-to-day operations, and expenses related to the issuance.  
On the other hand, if Green Packet managed to raise the maximum amount of RM52.57 million from the rights and warrants issue (assuming the rights issue with warrants is fully subscribed), the group intends to add expenditure for future viable investments, working capital for media and digital services, and working capital for finance technology (fintech) solutions.  
"Barring any unforeseen circumstances, the proposed rights issue with warrants is expected to be completed by the fourth quarter of 2018," the filing added.