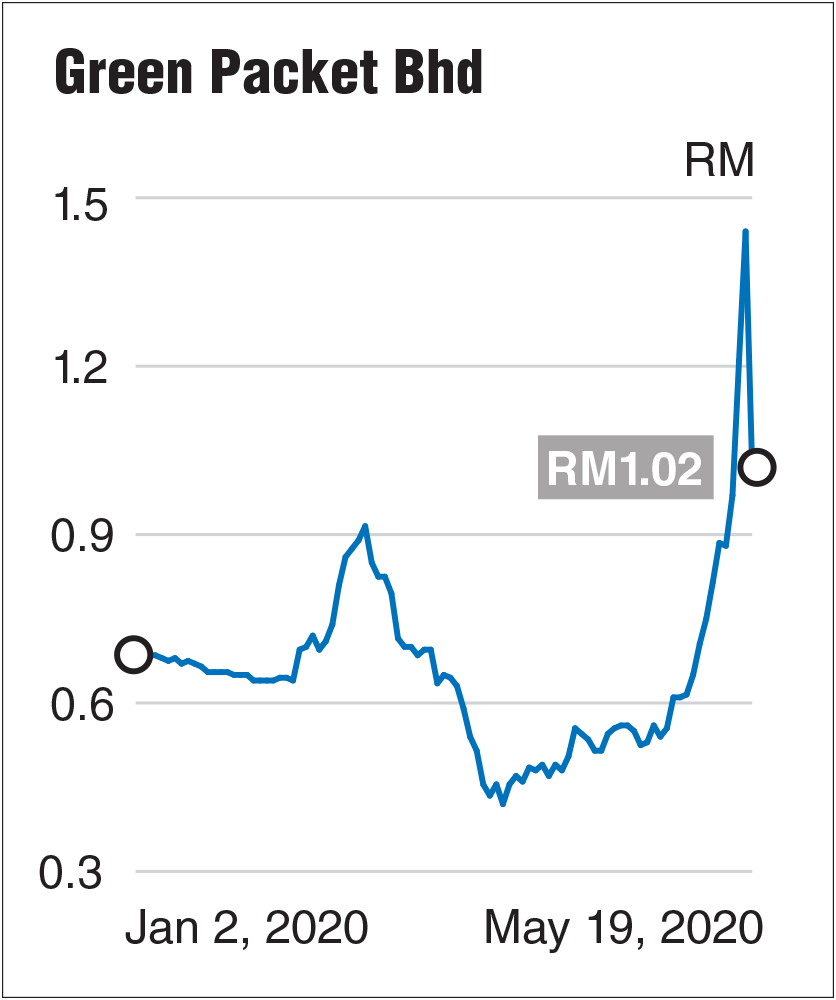 KUALA LUMPUR (May 19): Shares in Green Packet Bhd hit limit down today, as the counter succumbed to heavy profit-taking pressures.
The stock, which sank to as low as RM1.01 earlier today, closed at RM1.02 — down 29.2% or 42 sen — after 121.2 million shares exchanged hands.
The swift transition in sentiment on the counter caught some investors by surprise, as Green Packet hit limit up just the day before, following speculation it was getting ready to venture into digital banking by leveraging on China Internet giant Tencent as a partner for an e-KYC product. Tencent owns WeBank, one of the top digital banks in China which had much success by largely deploying e-KYC solutions.
In an earlier announcement, Green Packet said its KipleID e-KYC will deploy Tencent's patented solutions, which can assist banks and financial institutions to reduce costs by removing manual procedures.
It was a rather volatile trading day for Green Packet today. In morning trade, the stock rose further to RM1.65 from its closing of RM1.44 yesterday.
Then, it suddenly changed course and dropped to around RM1.20, before clawing back to RM1.40 right before the noon break. However, on trading resumption after the break, the stock tumbled to its limit down of RM1.01, as investors relinquished their positions.
Its warrants also sank by some 43% or 20 sen to 26.5 sen. It was among the top five most traded across Bursa Malaysia today, with some 234 million units done.
Notwithstanding the limit-down today, GPacket shares have jumped 143% from a low of 42 sen in mid-March. On a year-on-year basis, the stock is now three times the 33 sen it was trading at previously.
Read also:
Green Packet gets RM24m settlement deal in dispute with MYTV over RM272m decoder box contract