This article first appeared in The Edge Malaysia Weekly, on June 8, 2020 - June 14, 2020.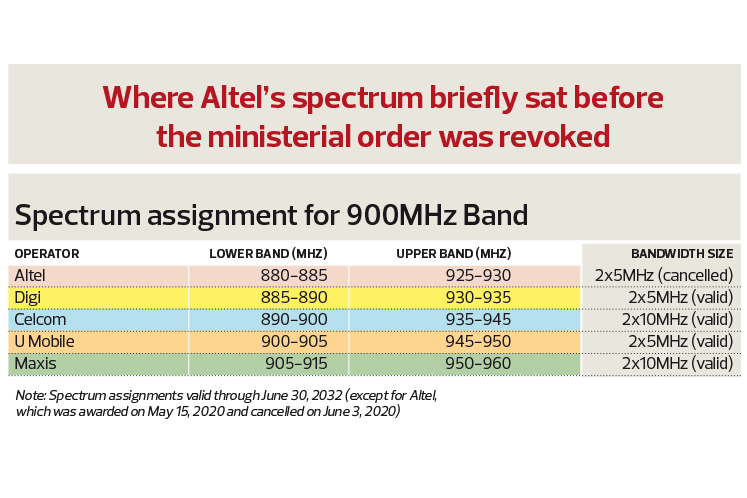 Click / Tap image to enlarge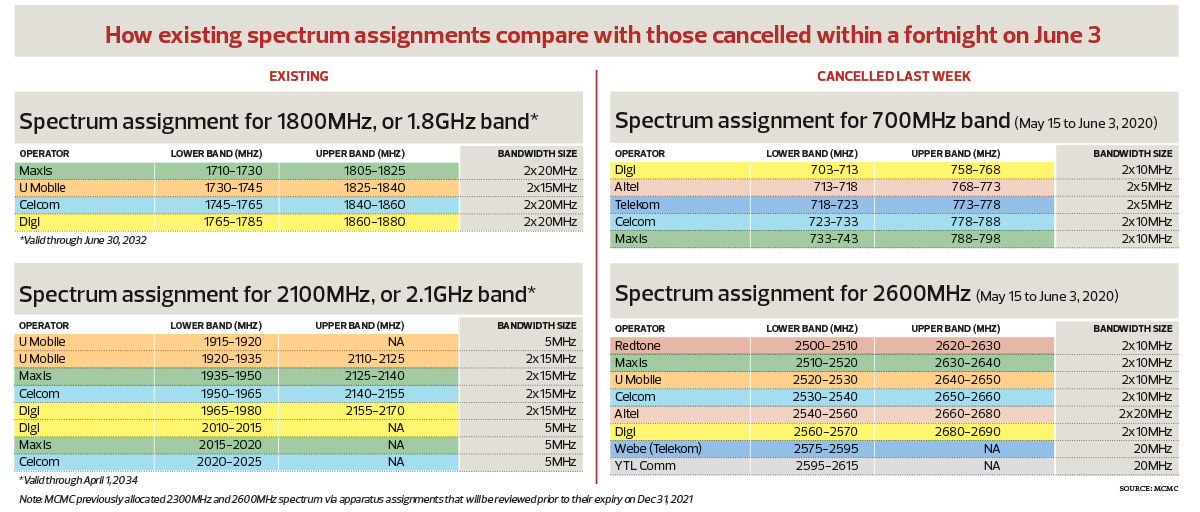 COMMUNICATIONS and Multimedia Minister Datuk Saifuddin Abdullah promised that his ministry would be "more thorough" and, among other things, ensure that all players would have a fair chance when the 700MHz spectrum came up for grabs again.
"[We] want to do better, have bids, be more transparent," he said in a Malay-language interview with Sinar Harian in a webcast via Facebook Live last Thursday (June 4) evening — a day after he rescinded what was probably his biggest policy decision since he was named to his current portfolio on March 9.
On June 3, Saifuddin cancelled his May 15 decision to award valuable telecoms spectrum in the 700MHz, 900MHz and 2600MHz frequency bands — including some earmarked for 5G services under the previous administration — to eight players, with the largest blocks (22%, or 60MHz bandwidth) going to the smallest operator in the telecoms market, Altel Communications Sdn Bhd.
The three big players — Maxis, Digi and Celcom — were given 40MHz (15%) each; Telekom Malaysia, 30MHz (11%); and U Mobile, YTL Communications and Redtone, 20MHz (7%) each, according to details in the since revoked ministerial directives 2, 3, 4 and 5 (2020) dated March 15 posted under the spectrum section of the website of the Malaysian Communications and Multimedia Commission (MCMC).
Altel is controlled by Tan Sri Syed Mokhtar Albukhary, who also controls 53.5% of Pos Malaysia Bhd (via DRB-Hicom Bhd) and just under one-third of Media Prima Bhd via Aurora Mulia Sdn Bhd. His Altel Holdings Sdn Bhd's MYTV Broadcasting Sdn Bhd was selected to operate the country's digital terrestrial television (DTT) infrastructure and network and has licence to operate myFreeview for 30 years. Altel's website boasts collaboration with Proton Edar, which is under DRB-Hicom, as well as its showcase on 5G autonomous shuttles in Langkawi in January.
It is not immediately known how much Altel has invested in its telecoms network, but it has been lending its existing 2600MHz spectrum (valid through end-2021) to Celcom and Digi. Maxis has similar arrangements with Redtone, which, like Altel, was one of the eight companies allocated spectrum in the 2600MHz band for 4G Long Term Evolution (LTE) services in 2012. At the time, Altel was given 2x20MHz (40MHz) spectrum in the 2600MHz band and had no other spectrum.
Saifuddin has yet to revert on questions seeking comment on what led to his decision to award the spectrum and the subsequent cancellation of the move just a day after the award, which was done without public tender, made headlines and drew flak from certain quarters, including his predecessor Gobind Singh Deo.
There were also no details on the upfront and annual fees for the spectrum awards in the since rescinded ministerial directive, something that telecoms analysts had noted as an uncertainty for the sector.
When Digi was awarded 2x5MHz of 900MHz and 2x20MHz of 1800MHz spectrum for 15 years from July 1, 2017, it had to pay an upfront fee of RM598.5 million as well as RM51.48 million in annual fees. In April 2018, Maxis and Celcom Axiata each paid an upfront fee of RM118.4 million plus an annual fixed fee of RM50 million for their 2100MHz spectrum assignment, which runs for 16 years to 2034.
At the time of writing, Saifuddin had said only that ensuring good-quality connectivity on 3G and 4G was more important to consumers than 5G, but he gave no clue as to when more spectrum would be awarded.
The MCMC, which was previously considering the allocation of the 700MHz and 3.5GHz bands to a single consortium formed by multiple licensees (instead of individual licensees) to cut network duplication, had yet to issue any updates on the matter. The scheduled release of its criteria in the first quarter to choose the best consortium in a beauty contest was delayed when Covid-19 hit and required telecoms operators to do national service.
According to the MCMC's final report on its public inquiry on the allocation of spectrum bands for mobile broadband service dated Dec 31, 2019, the 5G Task Force had previously earmarked for 5G the 700MHz band, the 3.5GHz band (or 3.3GHz to 3.8GHz, to be assigned in 3Q2020 for commercialisation by 1Q2021) and the 26GHz and 28GHz bands (or 24.25GHz to 29.5GHz, to be assigned in 1Q2021 for commercialisation by 3Q2021). The 3.5GHz band offers a balance between wide coverage of lower frequencies and high capacity of the millimetre-wave spectrum; and the 26GHz and 28 GHz bands are ideal for increasing the capacity of wireless networks. The task force had also mentioned a review of the use of the 2300MHz (WiMAX) and 2600MHz (LTE) bands in 2021.
In reply to a query in an interview with The Edge several months ago, MCMC chairman Al-Ishsal Ishak said it knew how much capital the telecoms operators had spent on their networks and were further committing to the marketplace, but the regulatory body said the information was confidential and could not be immediately released to the media.
In response to a public inquiry on spectrum last year, at least one of the big three operators asked that regulators award spectrum based on utilisation of existing spectrum. In other words, underutilised spectrum should be given to operators that needed more to cater for growing customer needs, they argued.
In the interview with Sinar Harian, Saifuddin also said he was taking into consideration comments that Malaysia's marketplace was too small to warrant so many players, but he did not elaborate on whether that meant he was in favour of consolidation or that he would be choosing to award spectrum to a smaller number of players in the future.
Pundits looking out for potential merger and acquisition (M&A) targets would undoubtedly take note of where each player's spectrum block sits — not just the cancelled allocation, but existing ones as well (see table).
"We note that the 700MHz spectrum awarded to Altel is located between Telekom Malaysia's and Digi's blocks while Altel's 900MHz spectrum is next to Digi's block … The market may see the award of 700MHz and 900MHz to Altel potentially leading to more spectrum sharing arrangements or making Altel an acquisition target," CGS-CIMB Research's telecoms analyst Foong Choong Chen wrote in a June 2 note before the spectrum awards were cancelled by the minister.
He has a "neutral" rating on the telecoms sector, citing M&A as a key upside risk to his recommendation, with the downside risks being higher-than-anticipated upfront fees for 700MHz/3.5GHz spectrum bands, more intense competition and adverse new regulations.
It is not immediately known how much in fees the larger players would need to pay to have access to smaller players' spectrum and whether the latter's ability to offer consumers an alternative choice is a fair exchange. With the telecoms sector's weight on the bellwether index as well as the portfolio of investors such as the Employees Provident Fund and Permodalan Nasional Bhd, any future policy directives are likely to be closely scrutinised.