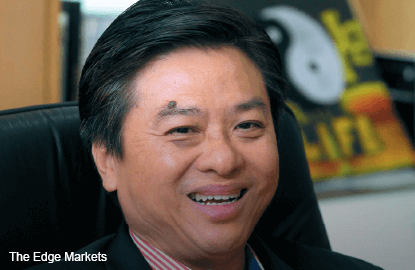 This article first appeared in The Edge Malaysia Weekly, on February 15 - 21, 2016.
Grand-Flo Bhd, a homegrown tracking solutions provider that ventured into property development in 2013, may find itself enduring lacklustre sales at the moment, thanks to the slowdown in the local property market. However, the group can count itself lucky as the rise in e-commerce is expected to boost the sales of its traditional business — enterprise data collection and collation system (EDCCS) solutions, also known as automatic identification and data capture systems.
According to Grand-Flo president and managing director Derrick Tan Bak Hong, the group is hoping to secure more projects from domestic logistics and courier service providers that will need its EDCCS solutions with barcode equipment to keep track of their parcels and packages at all times.
"A big opportunity for us is online shopping, which will create a huge demand for logistics distribution and delivery services. We think this area is booming and the company is well positioned to capture the market," Tan tells The Edge in an interview.
The 53-year-old, who has more than 20 years of experience in the automation and tracking solutions business, was appointed to Grand-Flo's board in December 2003. His wife, Yap Li Li, also sits on the board as executive director. The couple owns 21% of the company.
Listed in 2004, Grand-Flo provides data management and collaboration solutions to, among others, fast-moving consumer goods corporations, financial institutions, education organisations, reputable multinational corporations and government-linked companies.
Complemented by its barcode products, Grand-Flo's EDCCS solutions enable clients to manage and track assets in warehouses, retail outlets and office buildings. It is learnt that the EDCCS sector in Malaysia is currently worth RM100 million.
Tan believes Grand-Flo, being the country's largest EDCCS player with a 40% to 50% market share, has the edge over its rivals as most companies are more comfortable dealing with a top-ranked solutions firm.
"Usually, companies are wary of investing in EDCCS solutions because it's not a one-off thing. Once you are tagged to the tracking solutions, the upgrading of hardware and software is never-ending. Therefore, they prefer to work with stronger companies with a proven track record, like us," he says.
In fact, Tan confidently declares Grand-Flo as one of the strongest EDCCS players in the market because it has "all the experience in this area" with an established network in China, Hong Kong, Thailand and Vietnam.
"When we are invited by logistics companies to bid for their jobs, we are aggressive when we do our presentation because we know what we are talking about," he says.
Grand-Flo saw its net profit drop a sharp 48% year on year to RM6.7 million in its financial year ended Dec 31, 2014 (FY2014) against the backdrop of less implementation of projects and keener competition in the information technology sector. Revenue too dropped, from RM89.6 million to RM85.6 million.
However, for the nine months ended Sept 30, 2015 (9MFY2015), net profit jumped 64% y-o-y to RM8.8 million, owing to the stronger performance of the EDCCS and label division as well as the property division's higher contribution. Revenue rose 60% y-o-y to RM80.4 million.
As Grand-Flo's 9MFY2015 net profit has exceeded its earnings for the whole of FY2014, Tan has no doubts that the company can maintain its momentum and achieve double-digit growth in FY2016.
Grand-Flo ventured into property development in 2013 after acquiring a 52% stake in Jalur Bina Sdn Bhd. It then launched its maiden project — The Glades @ Alma Bukit Mertajam — which offered a total of 76 semi-detached houses and zero-lot bungalows and had a gross development value (GDV) of RM63 million.
Then in 2014, the group acquired a controlling stake in Innoceria Sdn Bhd to carry out a mixed-use development in Batu Kawan, Penang. Dubbed the Vortex Business Park, the project had a GDV of RM220 million.
While the heavy billings from existing property sales are expected to come in this year due to the progress in the construction of Vortex and The Glades, it is worth noting that their take-up is still below management's expectations.
With banks remaining cautious about approving housing loan applications, Vortex, which was launched in August 2014, is 70% sold while The Glades, launched in February last year, has seen a take-up of only 20%.
"It wasn't a good time to launch The Glades. Its take-up rate is very, very low. Even before rejection, it was only 40%. I think buyers need to have more confidence and the banks need to be more supportive," remarks Tan.
He says the company has taken a build-and-sell approach to The Glades and that there would be a relaunch and repackaging programme for the project during Chinese New Year.
"We have to be more innovative in sales and marketing. Whatever it is, we still need to deliver; we want to fulfil our commitment to the 20% who bought the units. We also want to show our potential customers that even during the bad times, we can still do it. Hopefully, the sales will come in later."
Grand-Flo's property division is expected to account for half of its revenue and profit in FY2016 with the remaining half coming from its traditional business.
However, Tan admits that as a group, Grand-Flo is not ready to become a full-fledged developer. Initially, the company had planned to expand its total GDV from RM283 million to RM500 million by early last year but this was later pushed forward to this year. But considering the weak market sentiment, the company has had no choice but to push its target farther to 2017 or 2018.
Meanwhile, Simat Technologies PCL, a 20%-owned associate company of Grand-Flo, is still loss-making. Simat had started off as a tracking solutions provider but later ventured into the fibre-optic-based, high-speed broadband business. Last year, the Thai-listed company made a net loss of about THB80 million (RM10 million).
Simat's fixed-line broadband service, dubbed Sinet, is currently available in four provinces: Chiang Mai, Nakhon Rachasrima, Khonkean and Bangkok. It is planning to penetrate Ubon Ratchathani and if successful, this would be its fifth province.
Tan highlights that Simat is currently cash-flow and Ebitda positive as Sinet had a subscriber base of 14,000, and growing, as at the end of last month. On average, Sinet recorded 1,200 to 1,500 new subscribers every month.
"If we can bring in another 2,000 to 3,000 new customers between February and March, we should be able to reach a break-even point or even generate profit by the second quarter of this year," Tan sums up.