This article first appeared in The Edge Financial Daily, on June 3, 2019.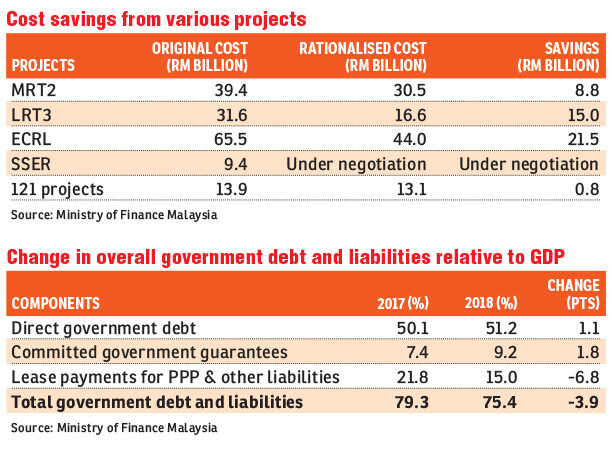 KUALA LUMPUR: Notwithstanding a rise in direct government debt, Malaysia's overall debt and liabilities in 2018 dropped 3.9 percentage points (ppts) to 75.4% of the country's gross domestic product (GDP) in 2018, versus 79.3% in 2017, following a successful cost rationalisation exercise involving overpriced megaprojects and public-private partnership (PPP) payments.
Finance Minister Lim Guan Eng said this in a statement yesterday, following his announcement on Saturday that the Debt Management Committee, which he chairs, has convened its first meeting last Friday to tackle the government's borrowings and liabilities, which stood at RM1.1 trillion as at end-2018. At the time, he also noted that the government saw a RM54.2 billion rise in direct government debt to RM741 billion from RM686.8 billion.
In the statement, he explained that the federal government's debt and liabilities are made up of three components: Direct government debt, committed government guarantees that are serviced by the government, and lease payments from various PPP projects as well as other long-term liabilities.
While direct government debt rose by 1.1 ppts to 51.2% of GDP in 2018 from 50.1% in 2017, it was due to the financing of fiscal deficit, which has been done annually under the previous administration, he said.
Committed government guarantees also rose 1.8 ppts to 9.2% of GDP in 2018 from 7.4% in 2017, which was caused by continuing payments for various existing infrastructure projects, he added. "These are not new projects and among them are for the MRT (Mass Rapid Transit), Pan-Borneo Highway and the East Coast Rail Link (ECRL) megaprojects entered into by the previous administration."
But other commitments the previous government made, which are lease payments for PPP and other liabilities (such as 1MDB), managed to be reduced by 6.8 ppts to 15% of GDP in 2018 from 21.8% in 2017. "It is this component that enabled the government to successfully reduce its overall debt and liabilities within one year."
The federal government's debt and liabilities would have risen higher were it not for the present government's various cost rationalisation efforts on the ECRL, the MRT2, the Light Rail Transit 3 (LRT3), and other megaprojects, he stressed.
"For instance, the cost of the LRT3, which would have been borne by the government largely through committed government guarantees, has been cut by 47% or RM15 billion. MRT2 saw a savings of RM8.8 billion, while 121 smaller infrastructure projects worth more than RM13.9 billion nationwide saw savings of RM806 million. Meanwhile, there is a RM21.5 billion savings on the ECRL, costing RM44 billion now from its original cost of RM65.5 billion.
That is a total cost savings of around RM46.1 billion from the above projects.
"Yet another example is the cancellation of the two pipeline projects under Suria Strategic Energy Resources Sdn Bhd, in which 88% of the RM9.4 billion total cost has been paid despite only 13% of work purportedly done. Additionally, the claimed work done cannot be verified. To this day, no explanation has been given by the previous government for why they approved such an unfair contract detrimental to the government and the people of Malaysia, and overly generous and beneficial to contractors," Guan Eng added.
The government, he further stated, will continue to reduce its overall debt and liabilities, and not just its direct debt.
"The government's newly established Debt Management Committee is pressing on with its fiscal consolidation exercise to slow down the growth of direct government debt, without affecting the economy's growth. This exercise, along with cleaner and good governance, will help reduce the overall debt and liabilities of the government further in 2019 and beyond," he added.