This article first appeared in The Edge Financial Daily, on April 5, 2018.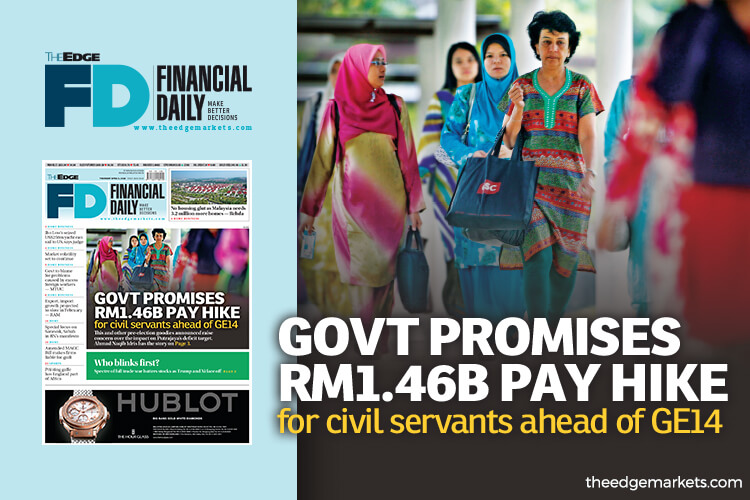 KUALA LUMPUR: The slew of pre-election goodies for civil servants that was announced by the government yesterday — that includes a whopping RM1.46 billion allocation for salary increment from July 1— may jeopardise the realisation of its 2018 deficit target if the additional expenses they entail have not been included in Budget 2018.
This was what one bank-backed economist, who declined to be named, warned. The goodies, announced by Prime Minister Datuk Seri Najib Razak at the 16th Civil Service Premier Gathering in Putrajaya, include a one-off 1% increment (from July 1 to Dec 31) to the pension rate of 800,000 retired civil servants. This is on top of the 2% hike received by pensioners on Jan 1.
Other goodies Najib unveiled include the shortening of the time-based promotion exercise for civil servants to 10 years from 13 years, a RM3 million fund contribution to Cuepacs, seven days of unrecorded leave for non-Muslims, a RM1 million special grant for pensioners' associations, and the introduction of an additional pay grade for educators, DG56. The last will cost RM7.4 million to implement.
The economist said these measures, along with other goodies recently announced by the government — like the 33% increase in allowance for members of the People's Volunteer Corps (Rela), and the RM70 million allocation to ensure low cost of goods in Sabah — do not indicate prudent spending by the government.
"Conventional wisdom says that if they want to achieve the 2.8% target, they will need to cut some expenses, but they keep dishing out all these goodies, which someone will have to pay for," he said.
The economist also cautioned that the government may need to raise funds to finance the increase in pension payment and civil servant salaries, which could increase Malaysia's debt-to-gross domestic product (GDP) ratio if the funds are raised through borrowings. The same is true if the government also misses its GDP growth forecast of 5.5% to 6% set for 2018.
"The ratio has gone down to 50.8% based on last year's numbers, from 55% previously. If they do raise funds from debt, it will increase the ratio. It is still possible for the government to meet the deficit target, though I think it will be a bit of a stretch," he said.
However, Socio-Economic Research Centre executive director Lee Heng Guie, when contacted, reckoned the finance ministry (MoF) must have worked out the calculations to see how they can afford the additional expenditure from the goodies it announced.
Stronger crude oil prices — at above US$60 (RM232.16) per barrel — also give them some headroom for additional spending, he said, as Budget 2018 is based on an average crude oil price of US$52 per barrel.
"Bear in mind that the government would still want to keep their budget deficit target on track, so I'm sure the MoF has worked out how much leeway they have for the prime minister to announce these measures," he said, noting such goodies to target specific constituents are announced every five years when the general election looms.
But he admitted that it was hard "to pin down whether these [election goodies] are already part of the allocation of Budget 2018, which has already been tabled and approved, or something additional". Hence, he urged the government to be transparent about the expenses and the financial impact they will cause.
From Najib's announcement yesterday, Lee said the two biggest items were the allocation for salary increment and the increase in payment to pensioners. He also observed that pension payments have been increasing yearly.
"The government has to consider whether the yearly [increase in] pension payout is sustainable in the long term because the amount of pension payments has been increasing over the years, as well as emoluments for the 1.6 million civil servants.
"We have touched on these issues previously, including on other aspects of the government's opex (operating expenditure). The government has to make a strong position in containing its opex," said Lee. "Populist measures must make economic sense," he stressed.
According to the MoF's 2018 Economic Report released last October, retirement charges — which include pension payments, gratuities and transfers to the Retirement Fund Inc — rose 12.5% to RM23.64 billion, which made up 10.8% of 2017's opex, following the implementation of the minimum pension payment in July 2016. In comparison, retirement charges made up 10% or RM21.03 billion of 2016's opex.
For 2018, the ministry expects retirement charges to rise to RM24.55 billion or 10.5% of the year's opex allocation of RM234.25 million.