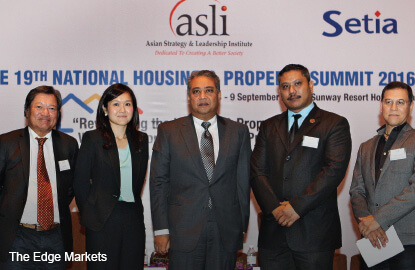 This article first appeared in
The Edge Financial Daily,
on September 9, 2016.
KUALA LUMPUR: The government must take the lead in getting property developers to transition to the Industrialised Building System (IBS) by providing tax breaks, and making it compulsory for government projects to implement the modular construction method, says the Real Estate and Housing Developers' Association (Rehda).
"For IBS to become more palatable to contractors and developers, I urge the government to ask the contractors for the majority of the contracts awarded to use IBS," said Rehda president Datuk Seri FD Iskandar Mohamed Mansor (pic).
"I think a lot more can be done; once you have more people using IBS, then you have the economies of scale. It will be cheaper to import the system, the formwork, and it will be easier for you to train workers," he said.
FD Iskandar said Rehda has started discussing the matter with the government.
"I'm sure it is looking into some of the views that we have presented, and we are more than happy to meet up with the government again," he told reporters yesterday.
FD Iskandar earlier moderated a panel discussion titled "CEO Roundtable: Is It All Doom And Gloom? Where Do We Go From Here? Is The Housing & Property Sector Sustainable? Will The Property Downturn be Prolonged?" at the 19th National Housing & Property Summit. It was organised by Asian Strategy and Leadership Institute.
Speakers included MKH Bhd managing director Tan Sri Eddy Chen Lok Loi, Sunway Bhd joint managing director of property development division for Malaysia and Singapore Sarena Cheah Yean Tih, Max Capital Management Holding Ltd chief executive officer Max Shangkar and Veritas Design Group president and founding director David Mizan Hashim.
FD Iskandar confirmed the panellists' views that IBS can bring about cost-savings and increase productivity. He said, theoretically, house prices could be lower once IBS reaches economies of scale in Malaysia — provided there are tax incentives and rebates on materials.
There are also currently additional charges that developers have to bear, he said. The Selangor government, for example, has surcharges that could go up to a quarter of the land cost, in the form of land conversion premium, development cost and others.
During the panel discussion, Cheah summed up the current state of the housing business thus: "It's a period of digestion; maybe we have gone through a period where we had had too much KFC. Now we just need to go on a diet, and we have to select the right nutrients to stay healthy."
She acknowledged that IBS can increase developers' productivity notwithstanding that they have been slow in adopting this construction method.
"It also encourages a knowledge-based economy, as it's not [purely] labour-intensive," she added.