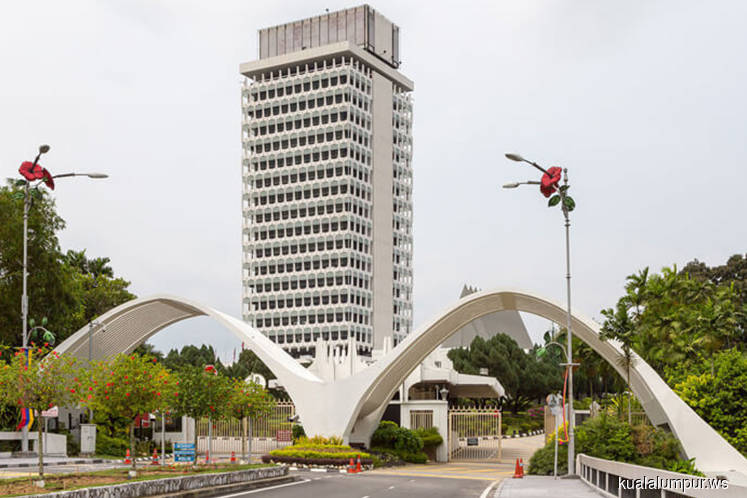 KUALA LUMPUR (May 22): The Cabinet has agreed to the drafting of a Bill on the implementation of temporary measures to reduce the impact of Covid-19. 
Minister in the Prime Minister's Department Datuk Takiyuddin Hassan said the Bill will involve amendments in several existing Acts as part of efforts to rebuild the economy and assist the people after the pandemic.  
The Cabinet agreed to the proposal during its meetings on April 29 and May 20, Takiyuddin said in a statement today. 
"The drafting of this Bill marks the commitment of the government to minimise the impact of the Covid-19 outbreak, which has direct economic and social impact on the people and the industry. 
"Through it, the government is confident that the post Covid-19 impact can be handled effectively and efficiently," Takiyuddin said.  
Concurrently, all ministries are requested to identify the Acts that will need to be amended according to their respective ministries, and to present the findings during a special meeting on the drafting of the Bill, which he will chair on May 28, he added. 
The Law Division in the Prime Minister's Department will act as the coordinator of this drafting process, the minister said. 
The outcome of the discussions, and the deliberations of the ministries and the implementation agencies including civil sociery organisations and other non-government organisations, will be presented to the Attoerney-Gereral's Chambers for its recommendations, before it is presented in Parliament in July.  
"The drafting of the Bill is a temporary relief to prevail or overcome any provisions deemed not in line with the related Acts during the prescribed period," Takiyuddin said.
"As such, all recommendations to be included in the Bill must have arisen from the impact of the Covid-19 outbreak, and must have impact towards businesses including small and medium enterprises, and the public as a whole," he added.  
The government had in March and April announced a RM260 billion economic stimulus package, after Covid-19 hit businesses here due to movement restrictions and as supply chains were impacted.  
Concurrently, the Opposition has called for the newly-formed Perikatan Nasional federal government to debate the stimulus package in the Dewan Rakyat, citing leakages that resulted in the measures not reaching the target groups.  
The government however faces another challenge, as opposition MPs and former prime minister Tun Dr Mahathir Mohamad have pledged to reject any Bills by the federal government, until a motion of no confidence against Prime Minister Tan Sri Muhyiddin Yassin is moved in Parliament. 
Muhyiddin was appointed as prime minister by the Yang Di-Pertuan Agong three months ago, just as the Covid-19 outbreak hit the country following a series of political events, starting with Dr Mahathir's shock resignation as the nation's seventh prime minister. 
#dudukrumahdiamdiam. We will deliver the news to you at theedgemarkets.com.