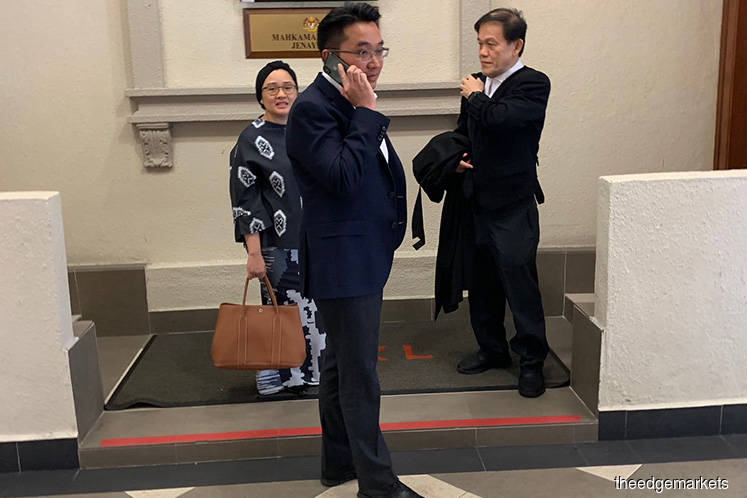 Two directors of OBYU were seen at court today with their lawyer Hisyam Teh Poh Teik (far right). Photo by Paw Ai Chin
KUALA LUMPUR (May 17): The government today added another piece of jewellery to the list of 11,990 pieces of jewellery which it wants to forfeit from OBYU Holdings Sdn Bhd.
Deputy public prosecutor Fatnin Yusof, who is in charge of this case, said the jewellery is a citrine white gold diamond ring weighing 13.68 gram valued at RM6,200.
The government withdrew the previous motion and filed the new motion on May 14 to add the new item to the forfeiture list, she added.
The case was called for mention today by High Court Judge Collin Lawrence Sequerah, who fixed the case for further mention on July 8, for the Attorney General's Chambers (AGC), which is representing the government, to serve the affidavits to the company.
The court also allowed lawyer Zahria Eleena, who acted for former premier Datuk Seri Najib Razak, to sit in as watching brief.
The government filed two separate forfeiture motions on May 7 against Najib, his wife Datin Seri Rosmah Mansor, their children Nooryana Najwa and Nor Ashman Razak, along with Najib's stepson Riza Shahrir Abdul Aziz and others, to retrieve jewellery or assets said to be from funds illegally gained from 1Malaysia Development Bhd (1MDB).
In the motion filed against OBYU, the government wants to retrieve RM680 million from the company, which comprises 11,991 pieces of jewelleries, 401 watches, 16 units of watch accessories, 234 pairs of spectacles and 306 handbags that were all seized on May 17 last year, as well as cash amounting to RM114.16 million in different currency denominations seized on Jan 31, 2019.
A property referred to as Lot PT 80, Subsection 63 in Kuala Lumpur that was seized on Nov 1, 2018 is also on the list of items sought.
According to the motion, the public prosecutor is acting pursuant to the powers conferred upon him by Section 56(1) of the AMLA Act, being satisfied that the properties were seized by the investigating officer of the Royal Malaysia Police between May 17, 2018 and Jan 31, 2019.
The government also filed three affidavits to support this motion.
Two directors of OBYU were also seen to be in the court proceedings today. The company was represented by lawyers Hisyam Teh Poh Teik and Datuk Kamarul Hisham Kamaruddin.
The company issued a statement on May 9 and maintained that it has no interest in the various assets seized within its property.
It stressed that as the company has no stake in the assets, the forfeiture motion would not have any detrimental effect on the company.