This article first appeared in The Edge Financial Daily, on April 6, 2020.
Click / Tap image to enlarge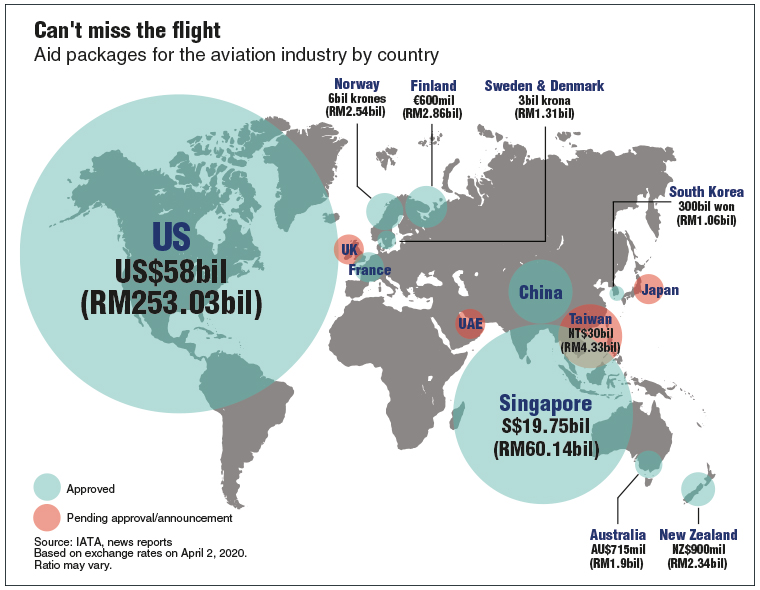 KUALA LUMPUR: Nations around the world have formulated huge relief packages for their aviation industry as the Covid-19 pandemic and the ensuing government lockdowns cripple air travel, both domestically and internationally.
These packages include grants, financing, guarantees, waivers and refunds to industry players, from airlines to airports, manufacturers and support services.
The sudden halt in air travelling worldwide is unprecedented, and that will mean zero revenue as aircraft are grounded at parking bays for weeks.
According to the International Air Transport Association, the global airline industry needs aid of up to US$200 billion (RM872 billion) to make it through the pandemic, adding that the industry could post a net loss of US$39 billion in the second quarter of 2020 alone.
The association, which represents 290 airlines globally, has said that only 30 airlines have the balance sheets to survive a prolonged slash in demand.
The biggest assistance so far comes from the US, which has pledged a massive US$58 billion assistance for the industry, as part of a wider US$2 trillion economic stimulus package to address the impact of the pandemic. The sizeable financial aids include some US$29 billion of grants to support employees' payroll.
Nearer to home across the causeway, the Singapore government, via its sovereign wealth fund Temasek Holdings Pte Ltd, has agreed to underwrite the fundraising by 55%-owned Singapore Airlines (SIA) to raise S$19 billion (RM57.86 billion) via a S$15 billion cash call and loans of S$4 billion.
The Singapore government has also announced a S$750 million aid for the industry comprising salary subsidies and other rebates.
Packages by other countries are not as towering, but huge nonetheless. The big spending gap between the US and Singapore with other countries is probably due to the importance of the aviation industry for both economies.
For Singapore, its Changi Airport and the flagship carrier SIA form the backbone of the island state's positioning as an aviation hub in the Asean region, hosting among the busiest airport and air cargo hubs in Asia.
Taiwan media reported that the country's deputy minister of transport is expected to provide subsidies and loans amounting to NT$30 billion (RM4.33 billion), although this has yet to be formalised.
Meanwhile, data also shows that governments' priority of support is given to national carriers.
Finland has pledged to provide up to €600 million (RM2.86 billion) loan guarantee to airline Finnair, which is 56% owned by the Finnish government.
Norway's government has pledged to provide loan guarantees of up to six billion Norwegian kroner (RM2.54 billion), half of which will be for Norwegian Air Shuttle ASA.
Meanwhile, the governments of Sweden and Denmark are offering credit guarantees worth three billion Swedish kronor (RM1.31 billion) to troubled Scandinavian Airlines, in which the two governments together own an almost 30% stake.
New Zealand, on the other hand, will provide loans of up to NZ$900 million (RM2.34 billion) to Air New Zealand. Australia, meanwhile, will allow A$715 million (RM1.9 billion) in refunds and waivers for its aviation industry.
South Korea has also released a plan to support the aviation industry with up to 300 billion won (RM1.06 billion) in loans and deferred airport charges.
Other countries have also stepped forward. China, for one, has underlined 16 measures to support the country's aviation industry, but has not quantified the value involved. For France, the European Commission has allowed deferring some aeronautical charges for up to two years.
Others like the United Arab Emirates, the UK, and Japan have also pledged support, but have yet to come out with the details of their aid packages.
The Covid-19 pandemic, which has impacted the wider economy, has brought airlines to their knees as planes are grounded in absence of passengers and as nations close their borders to contain the outbreak.
Industry players in numerous countries, from Qatar to Thailand and even Kenya, have called for government help as cash flow gets stuck and the entire industry braces for huge losses ahead.
Even the biggest players in the game like manufacturer Boeing Co and airline Emirates are not spared, with the former seeking up to US$60 billion in aid prior to the US government's stimulus package announcement.
Back home, Malaysia Airlines Bhd, owned by Khazanah Nasional Bhd, would require an injection of an estimated RM1 billion per year to be propped up during the normal days.
AirAsia Group is in talks with the government for loans, said its co-founder Tan Sri Tony Fernandes.