This article first appeared in The Edge Financial Daily, on December 21, 2017.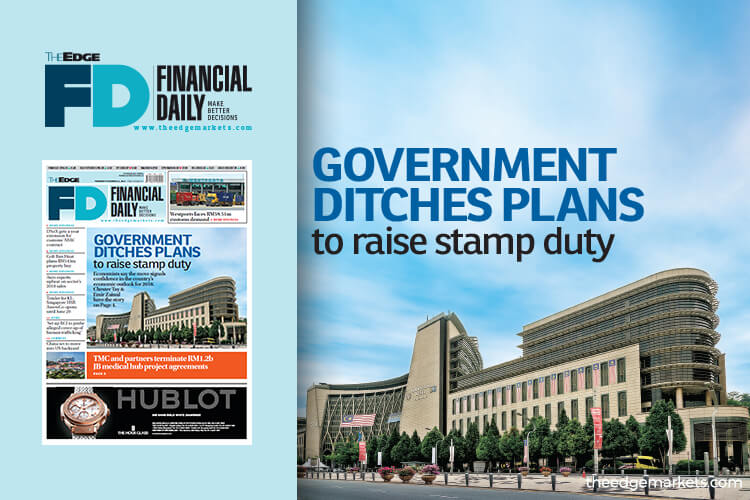 KUALA LUMPUR: The government yesterday ditched plans to increase stamp duty on properties worth more than RM1 million, slightly a year after the move was first proposed.
The abrupt change, announced by the ministry of finance (MoF), signals confidence in the country's economic outlook for 2018, according to economists.
The stamp duty, paid by property buyers, was due to rise from 3% to 4% on Jan 1, 2018, in which Prime Minister Datuk Seri Najib Razak had described as part of the government's commitment to "enhance the country's long-term fiscal sustainability" when tabling Budget 2017 last October.
In a statement yesterday, the MoF said accordingly, the stamp duty for the first RM100,000 of the property value stays at 1%. 
The next RM100,001 to RM500,000 remains at 2%, while the final RM500,001 and above, the stamp duty is kept at 3%.
No reason was given for the change of mind.
MIDF Research chief economist Dr Kamaruddin Mohd Nor believes the move indicates the government's confidence in domestic economic growth next year.
"There is expectation of higher revenue collection by 6.1% year-on-year in 2018 amid stable economic growth. The move would also help boost the property sector in the coming year," he told The Edge Financial Daily yesterday.
Hong Leong Investment Bank property analyst Lee Meng Horng said the move will help prevent the current overhang in high-end properties from worsening.
"Based on Napic's (National Property Information Centre) data, there is an oversupply of high-end properties. Nevertheless, [I have noticed] many developers had scaled down their launches in this segment. In addition, Malaysian banks' NPL (non-performing loan) ratio, gross domestic product growth and employment data are holding up. Inflation remained steady [in November] as well," he said.
"To us, the change in [MoF's] decision is not about addressing the high-end property overhang issue in terms of demand. That's because a 1% hike in stamp duty is unlikely to affect a homebuyer who wants and can afford to buy houses above RM1 million," Lee added.
Malaysia's economy grew 6.2% in the third quarter of 2017 from a year earlier, driven by domestic demand. Inflation eased to 3.4% in November from 3.7% in October.
Yesterday's announcement is the government's second U-turn over property regulations in a month.
On Dec 5, Second Finance Minister Datuk Seri Johari Abdul Ghani said property developers can now go ahead with their plans to build high-end offices and malls if they have good justification.
On Nov 24, Federal Territories Minister Datuk Seri Tengku Adnan Tengku Mansor was reported as saying Bandar Malaysia and the Tun Razak Exchange were exempted from the recent development freeze for high-end residential and commercial projects as development orders of the two projects in the city centre were granted before Nov 1.
This followed an announcement on Nov 17 where Johari  said the cabinet had frozen developments of all high-end projects to address the mismatch between supply and demand in the luxury property segment. Prior to that, a Bank Negara Malaysia report had revealed a huge amount of serviced apartments, small offices/home offices, retail and office spaces coming on stream in four years.
An industry observer, declining to be named, said the timing for a hike in stamp duty and the blanket ban on high-end property developments may be inappropriate ahead of the upcoming 14th general election.