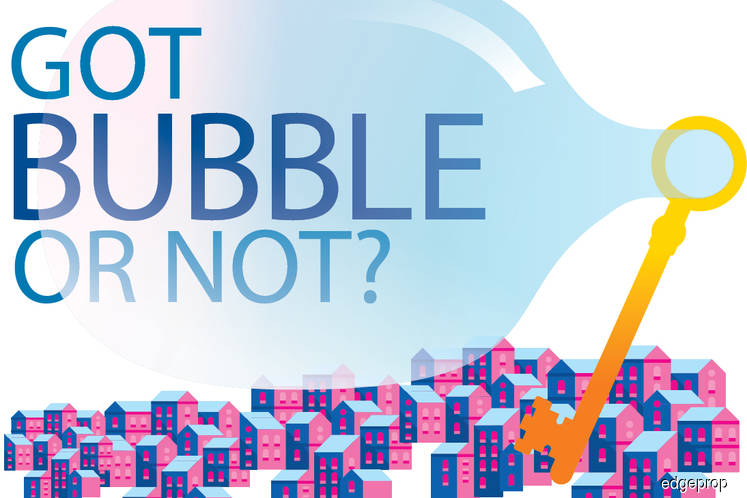 BUBBLE, bubble', toil and trouble? Bubble can be a scary word for property investors because it means that real estate prices are inflating rapidly over a short period without the support of underlying fundamentals or demand.
Investors often want to know whether a bubble is forming because when it "bursts", it will probably lead to sharp drops in asset prices. When aggravated by debt, falling asset prices will trigger an economic downturn or a recession.
For CBRE|WTW Malaysia managing director Foo Gee Jen, asset bubbles are often sentiment-driven, hence they do not provide any standard characteristics for early detection. A bubble will also form when there is excessive liquidity, leading to "too much money chasing too few assets", especially when the investment market narrows with limited buying options.
"People should be wary when the value of an asset bloats to a level where the expectation on the economic returns is unjustifiable or has an unfounded basis," he tells EdgeProp.my.
Foo has repeatedly pointed out that a housing bubble is not taking place in the Malaysian property market currently, citing the country's strong fundamentals and the cooling measures introduced by Bank Negara Malaysia, which have moderated the impact from price growth in the last market boom.
He explains that a few conditions will be present in a property bubble situation: price heating, supply exceeding demand, panic selling and irresponsible lending.
"While housing prices in Malaysia have been on the rise, they have not reached an unjustifiable level where the price unreasonably exceeds its economic returns, especially for the last three years. Rental yields of 2.5% to 3.5% for residential properties are still in line with current fixed deposit and savings interest rates. For the commercial and industrial properties, the market can still offer reasonable returns of between 5% and 7%.
"As far as residential properties are concerned, we estimate that in 2016 there are 97,500 new households formed every year compared to annual completions of 78,200 units. Therefore, an oversupply across the board leading to a dearth of house buyers is unlikely.
"The oversupply situation in Malaysia is locational and product-specific," Foo elaborates, adding that the Malaysian property market is still strongly backed by local homebuyers.
He says the property market should see better days as early as 2H18, although challenges such as affordability will remain the primary structural issue in the residential sector.
"Nevertheless, developers are seen to be more innovative and willing to adjust their selling prices. Concerns of oversupply in the office and retail sectors persist but developers and investors have slowed down their projects," he says.
Foo does not deny that the general consensus is that the economic climate is expected to be challenging going forward.
"The political landscapes in and out of the country are not stable. Political conflicts may lead to economic retaliation. Activities in major financial markets such as the US would affect the currencies of emerging markets like Malaysia as well.
"While an asset bubble is usually a result of a crisis, not every economic or financial crisis will lead to an asset bubble. Therefore, it is impossible to ascertain if and when a bubble will happen.
"My view is that, thus far, the property market in Malaysia does not seem to be moving towards a bubble situation. Should a crisis hit, property prices will fall but whether or not the price drop is substantial and drastic enough for a bubble to pop remains subjective," he adds.
Worse yet to come
Meanwhile, Universiti Tunku Abdul Rahman's Faculty of Business and Finance, Department of Economics assistant professor Dr Yip Chee Yin — who specialises in the housing market — opines that the property market, which is currently experiencing a slowdown, has yet to see the worst of it.
"The peak period [of the cycle] was in 2013, and thereafter prices have been sliding down. The question is whether this is due to fundamental changes or the bubble phenomenon.
"Housing prices are already coming down [indirectly] at a steady rate because developers are offering rebates, free furnishing and more. All these amount to a price decrease. So far, the rate of such incentive offers is still manageable.
"The sad news is that overhang and unsold properties are at an all-time high in a decade. This may cause developers to default bridging loan payments, thereby resulting in a domino effect on loan defaults and this could cause a financial crisis, signalling the housing market is about to burst.
"In my opinion, we have not gone past the worst. The fact is that, year in year out, we are facing an accumulated housing glut that can degenerate the cycle into a housing bubble. In view of this fact, we are still in a 'slowdown', the severity of which is yet to be seen," he shares.
Yip is also head of a research group funded by the Higher Education Ministry's Fundamental Research Grant Scheme which has published a research work titled "The development of housing bubble model: A study of Malaysian property market".
How to maintain economic fundamentals?
What anchors the property market in Malaysia? CBRE|WTW's Foo notes that strong domestic demand and external performance have been the strength of Malaysia's general economy, resulting in a 6.2% GDP growth in 3Q17 — a new high since 2Q14.
Meanwhile, Yip states political stability as a crucial base for general economic strength. However, political stability is not easy to achieve, especially in a multi-ethnic Malaysian society.
"Other than political stability, we have to maintain a clean government free from corruption. The final factor is that we need to be allies with large countries to benefit the people. We are a small country. We need to be allies with big and strong countries in most aspects so that relationships with them can make our country prosper. If we can achieve all the above, foreign investments will come in a big way," he opines. 
This story first appeared in EdgeProp.my pullout on March 23, 2018. Download EdgeProp.my pullout here for free.