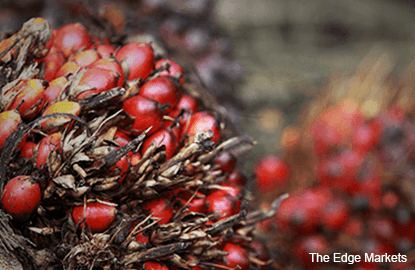 SINGAPORE (July 25): Emerging signs of La Niña — the cool, wet weather phase that brings plenty of rain to Southeast Asia — could spell relief for oil palm planters.
For the better part of the past year, oil palm trees in plantations across Malaysia and Indonesia had been under significant water stress owing to the worst El Niño event on record. The drooping palm fronds and absent fruit bunches that resulted had led to low palm oil output for the last two quarters.
Crude palm oil (CPO) prices hit a peak of RM2,700 a tonne in April, up from a low of RM1,800 a tonne in August last year. However, that bump was not sustained. One reason is that demand was soft even as production picked up.
According to Ling Ah Hong, director of Sabah-based palm oil research and consultancy firm Ganling, the market also underestimated the extent of the damage done by El Niño to the oil palm plantations in this region.
At the same time, on the other side of the globe in the Americas, soybean crops flourished in the warm weather, leading to abundant supply of soybean oil, a substitute for palm oil. Soybean oil futures have halved in price since 2013, and that has also pulled down CPO prices.
The result of all this is that earnings of the major plantation companies listed here have disappointed, and their shares have underperformed the broader market. But things could be about to turn for the better.
The full story on which palm oil companies could stand to gain from the changing weather can be read in The Edge Singapore ("Palm oil sector gets relief as La Niña arrives, long-term challenges remain", week of July 25, pg 11), available at Singaporean newsstands now.