This article first appeared in The Edge Financial Daily, on September 5, 2018.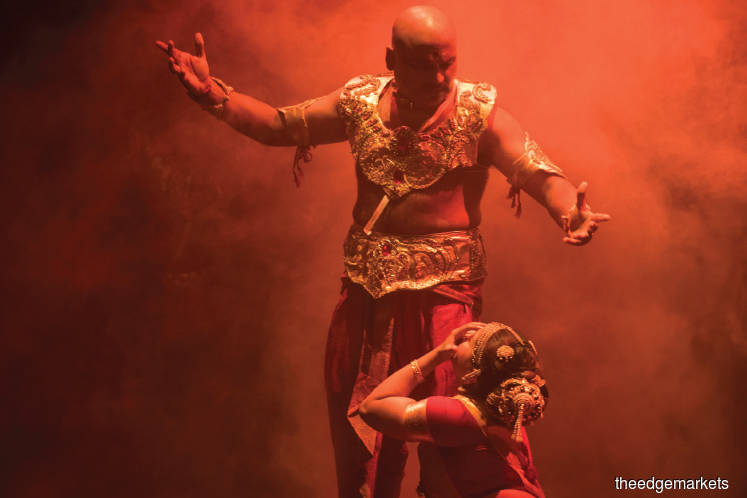 Upcoming dance drama I Am Ravana encourages the audience to explore the duality in our own personalities from a unique vantage point
Oftentimes, we are told that we are all capable of doing good, and we are also all capable of doing evil. As the history of humanity unfolds and we learn of the actions of our leaders and predecessors, it stands to reason that we may choose to take a step back and reflect on our own actions, as well.
The importance of making conscious decisions regarding our actions is a strong value of actor Mathan Rajasingam, the current lead in one of DiverseCity KL International Arts Festival's headlining events, I Am Ravana. Last weekend, I sat down with Mathan to get to know him and his ideals, as well as his personal understanding of the play in which he is set to star in this week.
"On a daily basis, a lot of things happen to us, and how we decide to react to it depends on and determines the person that we are, right? So, I think I've begun to think a lot more about my actions whenever something happens," Mathan said, when I asked whether playing the titular role of Ravana has changed his perception of good or evil in any way.
An alternative interpretation of the Sanskrit epic Ramayana, I Am Ravana gives a voice to the fabled villain of the original tale. In his final moments, looming in the liminal space between life and death, Ravana — a learned scholar and a devotee of Shiva — questions the shades of good and evil and reflects upon the choices he has made in the past. This is a stark contrast from the absolute depravity that is associated with traditional representations of Ravana, adding a touch of humanity to enhance the complexity of his character.
"I think, for me, one of the challenges is to be able to be powerful and proud and still be a little human as well," the actor explained. "What I've tried to do, at least in this I Am Ravana presentation, is to give him a more human feeling and colour the character a bit more rather than just portray him as being very one dimensional".
Mathan has a wealth of impressive theatrical experience under his belt. Having started off in 1996 as one of the monkey god Hanuman's troops in the Temple of Fine Arts (TFA) first staging of Ramayana, Mathan has benefitted greatly from the exposure he gained growing up in the TFA, taking on different characters in various productions over the years — including the role of Hanuman himself. No one could have foretold that build-up would have led to his playing the lead in this notably esteemed production.
Under the creative guidance of TFA's patron, the late Swami Shantanand, the performing arts institution's first staging of Ramayana was momentous in the way it included Balinese, Thai as well as Indian elements in the overall productions — cultures that also have the tale of Rama in their collective heritage and history. Seeking to reinterpret this iconic tale in a fresh and exciting way, it was the senior teachers in TFA's Perth chapter who conceived of I Am Ravana in its current format. It was staged to critical success last year, and the Kuala Lumpur version of the show is the first time it is being staged outside of Australia. The show, performed to specially commissioned music, involves cast from TFAs centres in both Perth and Kuala Lumpur.
Mathan, who is playing the role of Ravana for the first time, disclosed that portraying this persona is a distinctly enjoyable task in that it requires the actor to "really dig deep", as "if he's proud, he's very, very proud. If he's sad, he's crushed. If he's happy, he's absolutely happy and if he wants that one thing he will do whatever that he can do to get than one thing … it's amplified a bit more, every emotion that he feels".
Laudable though Ramayana may be, it is no easy task to do this legendary tale justice. "It is a lot of pressure, actually … TFA has always been tied very [closely] to Ramayana, because we have [been] known to stage it a couple of times at our different centres," Mathan admitted as he expressed his enthusiasm and trepidation about the upcoming show. "The last time we did it in Kuala Lumpur itself was in 1992. So now, after 26 years it's coming back to Kuala Lumpur … and doing a different take on top of it is another thing that we are very excited, but at the same time, very nervous about."
Taking into consideration the pressure Mathan feels to live up to all that the character of Ravana is known to be, I asked him what measures he took to prepare for one of his largest roles to date. "For me, there's no set rules. Because I'm playing a character that is a god, to my understanding — and this is more of a personal thing — I've not had any alcohol and I've been a vegetarian for the past two months. So, that is somewhat my way of getting ready for the role, to give it due respect," he responded, describing his method-acting strategy. "Also, reading a lot about him, because as you know, the story Ramayana is very much out there and there are a lot of authors who have written various takes on it. So I've read a lot about him and picked and chosen the parts that I like and that help me understand the character a little bit more".
Respectively, Mathan's on- and off-screen inspirations are Anthony Hopkins and his drama teacher, Lam Ghooi Ket. "He got a group of us who were the same age together, taught us drama class, and taught us how to explore and learn a bit more about drama, speech and theatre … that probably inspired me even more to keep doing these kinds of shows and stage plays and presentations and what not."
Having been inspired to act as a young man, Mathan now has the opportunity to inspire others in the same way he once was. When asked about what he hopes the audience will take away from I Am Ravana, he expressed that he hoped for them to be more thoughtful about their thoughts and actions. "Every action, every emotion, how we react to things on a daily basis, pretty much sums up [what] the end result is going to be".
---
I Am Ravana takes place from Sept 6 to Sept 8 at 7.30pm, at Shantanand Theatre, Jalan Berhala, Brickfields, Kuala Lumpur. Tickets are priced between RM50 and RM150, and are available for purchase via premier.ticketcharge.com.my.