This article first appeared in The Edge Financial Daily, on August 13, 2018.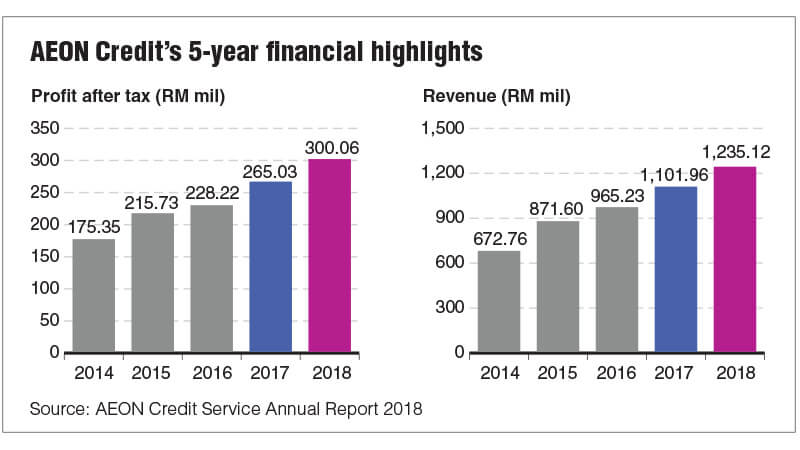 KUALA LUMPUR: AEON Credit Service (M) Bhd's annual net profit broke the RM300 million mark for the first time in the last financial year ended Feb 28, 2018 (FY18), thanks to stronger growth in the vehicle easy payment and personal financing product segments, and the group expects the good times to continue rolling into FY19.
The non-bank financial services provider posted a 13.2% increase in annual net profit to RM300.06 million for FY18, from RM265.03 million in the previous financial year, while revenue grew 12.2% to RM1.24 billion in FY18 from RM1.1 billion in FY17.
Its chief financial officer Lee Kit Seong sees FY19's growth fuelled by a number of factors including its branch transformation, digital marketing initiative, system enhancement and product roll-outs.
The group is also expected to benefit from the government's focus on the B40 segment. B40 refers to the bottom 40% of households with monthly income of RM3,900 and below.
"The group performed well in first quarter of FY19 (1QFY19) and we expect to sustain our 1Q financial performance for the remainder of FY19," he told The Edge Financial Daily in an interview.
"As long as we are able to execute our business plan well [according to schedule] and there is no major disruption to the market, then we will be able to maintain our performance," he added.
In 1QFY19 ended May 31, 2018, the group posted a 30.9% increase in net profit to RM99.24 million from RM75.81 million a year ago, while quarterly revenue rose 7.8% to RM325.72 million from RM302.28 million in 1QFY18.
In October, the group will enter the mobile wallet space with the launch of its e-wallet and e-money cards.
"It will be a nationwide launch. We are currently at the pilot testing stage," he said. It aims to issue one million e-money cards within 12 months from the day of its launch, by converting existing AEON Credit card members, as well as signing up new members.
"We will start [the use of the e-wallet and e-money cards for payments for purchases of goods and services] within the AEON group in Malaysia before we collaborate with our merchants such as senQ and Ogawa to widen the scope," he said.
Lee added that the e-wallet and e-money cards will be tied to its existing loyalty platform under AEON Member Plus Card.
"This is similar to mobile payment apps like Alipay, WeChat Pay and Samsung Pay that offer loyalty programmes and rewards.
"Currently, you need to have three membership cards [AEON Co (M) Bhd, AEON BiG and AEON Credit] to shop at AEON and AEON BiG outlets. But in the future, with this common platform, you only need to have one card that allows you to shop within the AEON group and earn reward points," he explained.
Lee noted that the e-wallet and e-money cards will be similar to AEON Credit cards, which are connected to the Visa and MasterCard payment platforms.
"You can spend anywhere [using the e-wallet and e-money cards], not just within the [AEON] group. But [if you spend] within the group, you will get more benefits such as reward points and cash rebates," said Lee.
Lee also said AEON Credit has an advantage to leverage on the six million members of AEON group, including those of retailer AEON Co, hypermarket chain Aeon BiG and its own members.
"I think we have more advantages [than other mobile payment apps] because firstly, we have an existing membership card base to target and convert. Secondly, we have the support of AEON Co and AEON BiG on the retail side so we can do a lot of synergies like cross-selling and promotion using digital marketing tools," he said.
According to Lee, more than half of Malaysian retailers still use cash and this presents an opportunity to e-money and e-wallet providers.
AEON Credit also embarked on a digitalisation journey three years ago to improve the way of addressing stakeholders' concerns, particularly the customers, and at the same time boosting the profitability of its receivable portfolios and credit recoveries.
"We started on our branches and customer service unit by changing the human collection counters to cash deposit machine and transferred our staff to customer service sales oriented task. So, this time (value chain transformation) is on how we can materialise to maximise the take-up rate through the web application," said Lee.
On its value chain transformation exercise, Lee said the group will launch e-signature for sales and purchase agreement on its merchant online system by the end of FY19 after completing the e-application, e-claim, e-monitoring, e-reporting features at the earlier stage.
"It all depends on the approval or clearance from the relevant authorities because we are working with the domestic trade and consumer affairs ministry and the Malaysian communications and multimedia commission. They need to study and check on the law side on whether this proposal is acceptable or compliant with the relevant Act or regulator or not.
"This will actually help us to do end-to-end. The manual signing is still not end-to-end," he explained.
AEON Credit, which has traditionally focused on financing for customers in B40 segment, is also widening its portfolio to include those in the middle-to-high income group (M40).
"We already did that (venturing into financing for the superbike and second-hand car for M40 group) earlier, it is not that we are not there. But we want to do more, to take the opportunity and support the income group based on customers' demand.
"We will continue to change. If we don't change, we cannot break [our revenue and net profit] record," added Lee.
Vehicle financing (for cars and motorcycles) accounted for the largest share of the group's total financing receivables as at Feb 28, 2018 at 58.5%, followed by personal financing at 26.4% and credit card at 8.8%.
Lee also said the group is targeting to increase the group's credit cards in circulation by 100,000 to 360,000 in FY19, from 260,000 presently.
He noted that during the current three-month tax holiday period from June 1 until Aug 31, following the zero-rating of the goods and services tax, sales through AEON Credit cards hit a record last month, but he did not elaborate.
However, Lee said with the introduction of the sales and services tax in September, the group needs to work hard to ensure the momentum is sustained.
"We need to plan lots of activities with merchants and manufacturers like Yamaha, Honda and Kawasaki. So, there will be a lot of discussions and collaborations to take place to continue to sustain the current demand and current trend. We need to work hard after the tax holiday," he said, adding that its participating merchants total 12,000 to date.
Aeon Credit shares closed down four sen or 0.27% at RM15.04 last Friday, bringing a market capitalisation of RM3.76 billion. Year to date, the stock has risen 9% from RM13.78 on Jan 2.