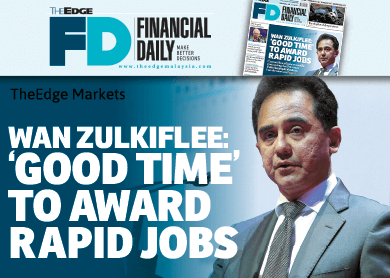 KUALA LUMPUR: Petroliam Nasional Bhd (Petronas) is going ahead with its massive downstream project, the refinery and petrochemical integrated development (Rapid), but the national oil firm is fine-tuning the plan with certain parts of the project to be delayed till a later stage.
Petronas president and group chief executive officer (CEO) Datuk Wan Zulkiflee Wan Ariffin, who is new at the helm, acknowledges that the Rapid project will be commissioned in mid-2019. "For the refinery, the start-up will be in the middle of 2019. That is the current schedule."
Wan Zulkiflee commented that it is now a "good time" to award engineering, procurement and construction (EPC) contracts for Rapid as the current low oil price environment would enable cost savings.
"Commodity prices went down, for us it was a good time to go into the market for EPC contracts because prices are (more) acceptable," Wan Zulkiflee replied when asked about the impact of low crude oil prices on the Rapid project at the 18th Asia Oil and Gas Conference 2015.
"So I think that would be the first impact for us in terms of low oil prices," he said, adding that Petronas has gone through a rebidding process to get better prices for the RM80 billion Rapid in Pengerang, southern Johor.
The CEO revealed that Petronas has already awarded all the infrastructure, the refinery and cracker packages to reputable EPC contractors. However, its petrochemical plant is still in the tendering process.
Wan Zulkiflee pointed out that Petronas has also reviewed the specifications of the project's facilities, which in turn has helped the national oil corporation see some savings. He noted that Petronas has subsequently made the decision to take certain portions of the petrochemical plant within Rapid into several phases.
"We have taken a decision that some of the chain (phases) in the petrochemical plant would be "re-phased". Basically some of the chains we will do a bit later," he said, noting that Petronas would deploy more of its own employees for Rapid to reduce dependency on management consultants.
This article first appeared in The Edge Financial Daily, on May 19, 2015.