This article first appeared in The Edge Financial Daily, on December 10, 2018.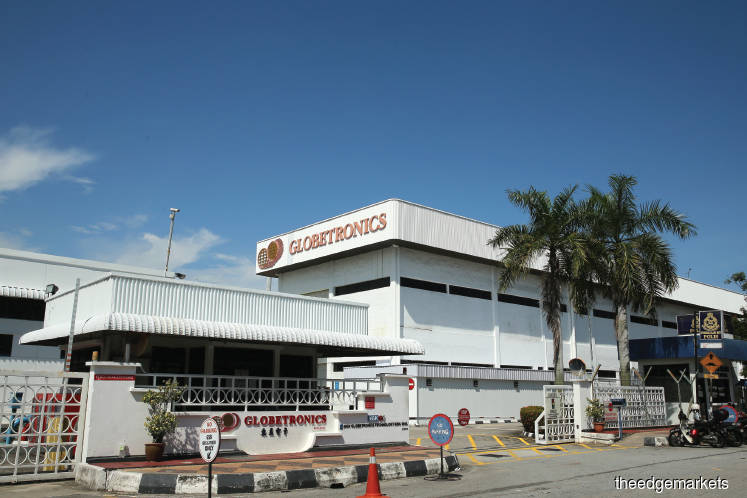 Globetronics attributes an improvement in its earnings to lower cost of sales, as well as a foreign exchange gain. The Edge file photo
KUALA LUMPUR: Fund managers say now may be a good time to buy into small-cap stocks on Bursa Malaysia, given the current soft market conditions, although investors must take a very selective, rather than a sector-based, approach.
Year to date (YTD), the FBM Small Cap Index has declined 29.48%, closing at 12,023.53 last Friday. For comparison, the FBM KLCI fell 6.47% during the same period, while the FBM Emas dropped 10.39%.
Areca Capital Sdn Bhd chief executive officer Danny Wong said investors can start looking at small-cap stocks but added that he remains cautious about the market, preferring a selective approach.
"I'm looking at certain sectors. We quite like export-oriented sectors due to the ringgit's weakness against the US dollar, such as semiconductor players in the technology sector, and glove manufacturers," he said.
Wong said stocks in the consumer sector could be good bets as well, as he expects consumer spending to pick up, supported by the government's measures to assist and improve the bottom 40% group's spending power.
Semiconductor players that have been sold down include Globetronics Technology Bhd, whose share price has fallen 30.3% YTD. The counter is currently trading at a price-earnings ratio (PER) of 17.45 times, relatively lower than other semiconductor players seeing PERs of above 20 times.
Since touching a seven-month closing high of RM2.90 on Aug 28, the stock had been declining to RM1.92 last Friday.
The surge in Globetronics' results for the third financial quarter ended Sept 30, 2018 did not stem its share price's decline. The group reported a 64% jump in net profit to RM23.6 million, from RM14.38 million a year earlier.
The group attributed the improvement in its earnings to lower cost of sales, as well as a foreign exchange gain of RM420,000.
For the rubber glove sector, Comfort Gloves Bhd could be worth a look as the counter has fallen 19.8% since the start of the year. Last Friday, it closed 0.5 sen lower at 95.5 sen.
Its share price's decline was partly due to its net profit dropping 54% to RM4.1 million for the second quarter ended July 31, 2018 due to a one-off logistics expense totalling RM4.4 million.
The group has proposed to acquire a 100% equity interest in glove retailer Pacewell Asia Sdn Bhd which could support its earnings in future, as Pacewell has a licence under the US Food and Drug Administration which should enable the group to export to the US and bolster its performance ahead, according to RHB Securities Research.
Meanwhile, MIDF Research head of research Mohd Redza Abdul Rahman said certain sectors could potentially yield greater returns.
"The sectors that look attractive in the small-cap space are construction, consumer, property, education and renewable energy, all having seen a slew of incentives announced by the government," he said.
While some of the big-cap consumer counters have seen their PERs go beyond 25 times, he said there are smaller players that could offer some upside such as Spritzer Bhd, falling 7.2% YTD with a PER of 15.72 times.
For construction stocks, Mohd Redza prefers smaller players which could see growth in their order books. "Muhibbah Engineering (M) Bhd and Gabungan AQRS Bhd look interesting, as well as Sarawak players such as KKB Engineering Bhd and Hock Seng Lee Bhd. These smaller players have the flexibility and a higher probability to replenish their relatively small order books."
Despite the geopolitical impact on crude oil prices, he said Dayang Enterprise Holdings Bhd could be worth a look, as its involvement in maintenance contracts could make it a good defensive stock.
"While trading is very much influenced by sentiments, which are influenced by external factors, the weakness in prices resulting from negative market sentiments brings opportunities to acquire gems with strong earnings fundamentals if one is willing to look hard enough.
"There is indeed no free lunch but smart investors could get great lunches at a cheaper price," Mohd Redza said in jest.
On a macro level, he said investors should factor in the possible impact of domestic developments such as the plans announced in the reviewed 11th Malaysia Plan and Budget 2019, as well as external developments such as the US-China trade war and Brexit.
A company's exposure to foreign currency should also be considered, he said, as this would impact a company's input costs. He added that while the current weak ringgit had temporarily lifted export players' earnings, the tables could turn when the ringgit strengthens.