This article first appeared in City & Country, The Edge Malaysia Weekly, on July 22, 2019 - July 28, 2019.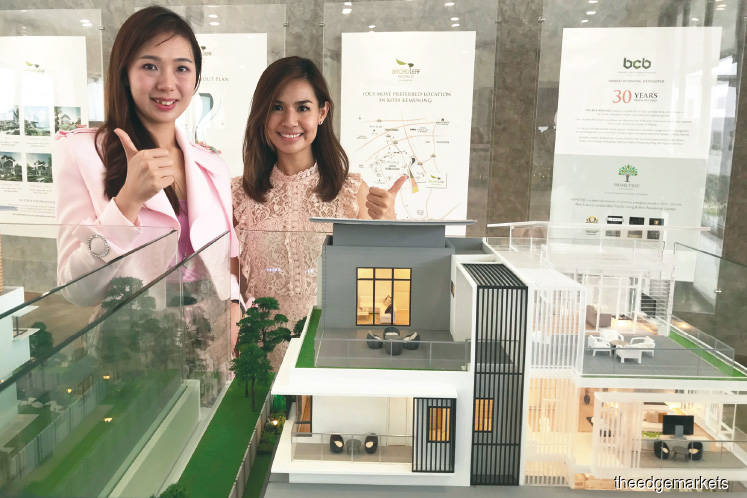 Executive director Lindy Tan (left) and Low at the opening of Broadleaf Residences' bungalow show unit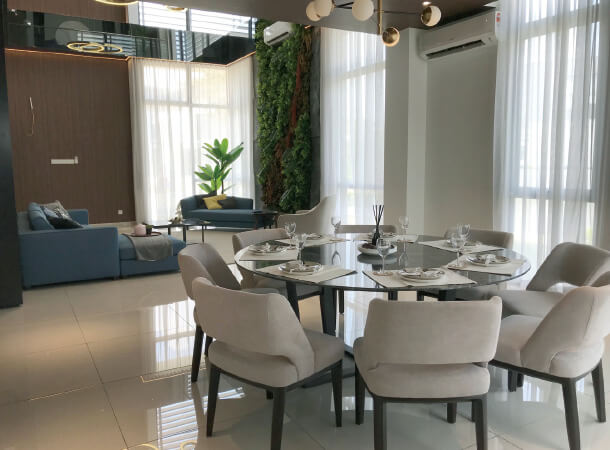 The dining and living area of the show unit
Phases 2A, 2B and 2C of Broadleaf Residences in  HOMETREE, Kota Kemuning, by Johor-based developer BCB Bhd has seen good response. Phase 2A, which was officially launched in October last year, and Phase 2B, which commenced early this year, are fully sold. Phase 2C, introduced in May, is half taken up.
Phase 2A comprises 36 bungalows and 45 semi-detached houses while Phases 2B and 2C will have 32 and 46 semidees respectively.
The 49-acre, RM660 million Broadleaf Residences is the second phase of BCB's 150-acre leasehold  HOMETREE township. Broadleaf Residences is divided into six phases and comprises 244 three-storey semidees and 51 three-storey bungalows.
"We expect to sell the entire Phase 2 in two years. We have opened one-third of it. This year, we received positive response from the [property] market. Sales in the first half surpassed last year's total sales," said marketing manager Low Wai Leng at the opening of Broadleaf Residences' bungalow show unit on July 12.
She added that they are looking to open Phase 2D (66 units of semidees), in the fourth quarter.
Priced from RM1.99 million, the semidees will have one layout and built-ups of 4,654 sq ft. Land areas will range from 3,111 to 7,858 sq ft.
For the bungalows, there will be five different layout with built-ups of 4,942 to 6,081 sq ft. Land areas will be between 4,553 and 7,174 sq ft. The selling price starts at RM2.8 million.
Initially, Broadleaf Residences offered 99 bungalows instead of the current 51 units. Low said sales were slow due to loan rejection. "[It was] not because nobody wanted to buy [the units]. But the loan rejection was high."
She added that since there is a market for semidees, the developer changed the development plan and converted some bungalow units into semidees.
Established in June 2013,  HOMETREE is a five-phase project. Phase 1 — called Long Branch Residences — comprises 101 bungalows and is fully sold and has been handed over.
Phase 3 — which will comprise 220 linked houses, superlinks and semidees — is slated to be launched at the end of this year. "We have submitted the development order and we are waiting for approval. Hopefully, we will get the order soon and then launch it (Phase 3) at the end of this year," said Low, adding that Phases 4 and 5 will be commercial components, but there are no plans to launch them at the moment.
One of the unique points of  HOMETREE, Low explained, is that each residential phase will feature a private clubhouse with facilities such as a swimming pool and a gym.
Meanwhile, at the opening of the bungalow show unit, the winners of the Quarter One lucky draw of the BCB30 Celebration was presented with prizes, and the draw for Quarter Two was also held.
This year, BCB is celebrating its 30th anniversary with various activities.