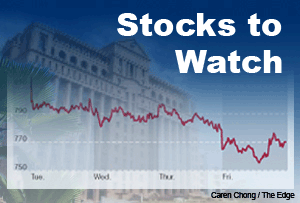 KUALA LUMPUR (Oct 13): Based on news flow and corporate announcements today, stocks that may be in focus tomorrow (Oct 14) could include: Goldis, IGB Corp, Bertam Alliance, Halex, Astro and MRCB
Goldis Bhd has proposed a renounceable rights issue of up to 460 million new redeemable convertible cumulative preference shares to raise RM460 million to partially refinance borrowings obtained to acquire all remaining shares in IGB Corp Bhd at RM2.88 apiece in cash.
The proposed rights issue is conditional upon the proposed takeover offer, it said.
Goldis highlighted that the consideration for the proposed offer, to be satisfied entirely in cash, shall be funded by internally generated funds amounting to about RM59 million and the balance entirely by borrowings.
Goldis closed up 1 sen or 0.43% to RM2.32, giving it a market capitalisation of RM1.41 billion.
Separately, independent adviser (IA) RHB Investment Bank Bhd has deemed Goldis' takeover offer for the remaining shares in IGB Corp Bhd at RM2.88 each is "not fair and not reasonable", and advised IGB's shareholders to reject the offer.
According to the IA circular, Goldis, which already owns 31.11% in IGB, has obtained irrevocable undertakings from IGB shareholders, who own a collective 17.3% stake in IGB, to accept the offer.
RHB said the offer is deemed unfair as the offer price represented a discount of RM2.45 or 45.96% to the revalued net asset value (RNAV) of IGB at RM5.33 a share.
The IA also said IGB's prospects were expected to remain positive given its ongoing and proposed projects, and that IGB shareholders could participate in IGB's growth by not accepting the offer.
IGB Corp closed down 1 sen or 0.35% to RM2.86, giving it a market capitalization of RM3.82 billion.
Bertam Alliance Bhd's wholly owned unit Bertam Development Sdn Bhd has entered into a sale and purchase agreement with Nadi Hasil (M) Sdn Bhd to acquire three parcels of factory land in Tuaran, Sabah for RM43 million. 
In a filing with Bursa Malaysia, Bertam said the 33.015-acre land also comprises a brick factory and a block of double-storey office building. 
"The management of Bertam has intention to either develop the properties into a 2,560-unit of PR1MA apartments project or a 1,982-unit of 5-storey walk-up apartments project. Presently, the management has not finalised the feasibility study of the proposed projects," said the company.
The acquisition, which is expected to be completed by the first quarter next year, will be funded by bank borrowings and internally generated funds.
Bertam closed down 0.5 sen or 0.58% to 85 sen, giving it a market capitalisation of RM175.74 million.
Halex Holdings Bhd's managing director Yeoh Cheng Poh has ceased to be a substantial shareholder in the company after disposing 12.84 million shares representing a 12.12% stake in the agrochemicals agency for RM12.59 million, or 98 sen a piece. 
A filing with Bursa Malaysia showed that Yeoh ceased to be a substantial shareholder on Oct 10.
Following the disposal, Yeoh is left with 2 million shares or 1.89% direct interest, and 0.56% indirect interest in Halex.
Halex closed down 1 sen or 1.16% to 85 sen, giving it a market capitalisation of RM90.08 million.
Astro Malaysia Holdings Bhd announced that the Arbitral Tribunal has ruled in favour of its wholly owned subsidiary Measat Broadcast Network Sdn Bhd (MBNS), on its dispute with AV Asia Sdn Bhd (AV Asia).
AV Asia had in 2010 sued MBNS for breaching a Mutual Non-Disclosure Agreement dated Aug 1, 2008, signed between the two parties, in the manufacture and supply of satellite dishes. 
However, according to Astro's filing to the local bourse today, the court had on Oct 10, 2014, dismissed AV Asia's claim for RM300 million and ordered it to pay costs in the sum of US$1.05 million to MBNS.
AV Asia's allegation is based on a suspicion that MBNS had leaked confidential information involving a solution developed by collaboration between the former and Japanese electronics manufacturer Maspro Denkoh Corp., regarding the manufacturing of satellite dishes in 2007.
Astro Malaysia closed down 5 sen or 1.56% to RM3.15, giving it a market capitalisation of RM16.37 billion.
Malaysian Resources Corporation Bhd (MRCB) announced that it has accepted the letter of acceptance of tender from Johor Land Bhd for the construction of a 30-storey JLand Tower at Komtar JBCC, Johor Bahru at a tender sum of RM197.36 million. 
The job is for 24 months and should be completed by November 2016.
MRCB said the project is expected to contribute positively to its future earnings.
The counter closed down 6 sen or 3.85% to RM1.5 today, giving it a market capitalisation of RM2.64 billion.