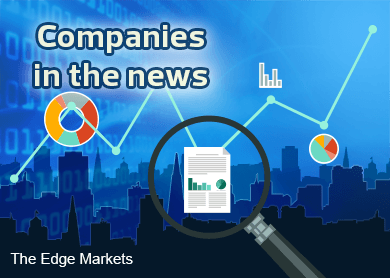 KUALA LUMPUR (July 22): Based on corporate announcements and news flow today, companies that may be in focus tomorrow (Thursday, June 23) could include the following: Golden Land, MRCB-Quill REIT, Taliworks, Seremban Engineering, GHL Systems, Takaso, Top Glove, Fitters Diversified and Mexter Technology.
Golden Land Bhd plans to distribute RM190.33 million cash to its shareholders, or 88 sen apiece for every ordinary share held in Golden Land at an entitlement date to be fixed and announced, following its proposed disposal of its plantation lands in Sabah for RM655 million to Felda Global Ventures Holdings Bhd.
In its filing to Bursa Malaysia today, Golden Land said the proposed distribution is made possible by the proposed disposal and is undertaken to reward shareholders for their support of the company.
It said the proposed distribution will be undertaken by first, a proposed capital reduction and repayment of 75 sen via reduction of the par value of its existing shares, and then by way of a special cash dividend of 13 sen each which amounts to approximately RM28.12 million, also on an entitlement date to be announced later.
For the proposed capital repayment, that entails the reduction of 75 sen for each Golden Land share with the par value of RM1 to 25 sen, which will give rise to about RM167.18 million, of which RM162.21 will be paid to shareholders.  
"The special dividend shall be paid out of the net proceeds to be received by the company from the proposed disposal. It is expected to be paid to the entitled shareholders after the completion of the proposed disposal," it said.
It has also proposed to utilise the net proceeds from the disposal consideration for the proposed distribution (43% or RM190.33 million), development of plantation and property development businesses (43% or RM190 million), working capital (10% or RM43.67 million), and to finance the estimated expenses of the corporate exercises (4% or RM20 million).
Barring any unforeseen circumstances, the proposed distribution is expected to be completed in the first quarter of the year 2016 after completion of the proposed disposal.
Additionally, the group has sought clarification with Bursa Securities regarding its listing status pursuant to the proposed disposal.
MRCB-Quill Real Estate Investment Trust (MRCB-Quill REIT) saw its realised net income increase 59.22% on year in the second quarter ended June 30, 2015 (2QFY15) from RM8.56 million, primarily due the recognition of income contribution from the newly acquired Platinum Sentral.
MRCB-Quill REIT's (fundmental: 0.05; valuation: 1.2) distribution per unit (DPU) in 2QFY15 was 2.22 sen — up 10.4% from 2QFY14's 2.01 sen — which the REIT will be distributing on Aug 28 (ex date: Aug 4), according to its filing with Bursa Malaysia.
This brings its annualised 1HFY15 DPU to 4.1 sen, the same as its recorded DPU in 1HFY14.
Meanwhile, the REIT said its realised net income for the half year ended June 30 (1HFY15) increased to RM21.91 million, up 31% from RM16.72 million in 1HFY14.
Gross revenue for 2QFY15 was 85.5% higher at RM32.18 million from RM17.35 million, while its 1HFY15 revenue stood at RM50.79 million, up 47.1% from RM34.53 million in 1HFY14.
In a separate statement, the REIT's manager MRCB Quill Management Sdn Bhd chief executive officer Yong Su-Lin said the annualised 1HFY15 DPU translated to a yield of 7% based on MQREIT's closing price of RM1.17 on June 30.
Infrastructure company Taliworks Corp Bhd has proposed to undertake a share split and a free warrants issue, to enhance the marketability and liquidity of its shares.
The proposed share split involves the subdivision of every two existing Taliworks shares of 50 sen each into five shares of 20 sen each.
The proposed free warrants issue, meanwhile, will involve the issuance of up to 241.93 million warrants on the basis of one warrant for every five existing Taliworks shares held. It will be implemented after the completion of the proposed share split.
The warrants are exercisable at any time within three years commencing on and including the date of issuance of warrants, Taliworks said in a statement.
Both proposals are subject to approval from Bursa Securities and the company's shareholders, but are expected to be completed by the fourth quarter of 2015.
According to Taliworks, the exercise price of the warrants will be fixed at a premium of at least 15% over the theoretical ex price of Taliworks' shares before the entitlement date and shall in no event be lower than the par value of the shares.
The enlarged number of shares after the corporate exercises, assuming the full exercise of the outstanding employee share option scheme and the completion of its ongoing private placement exercise, is estimated to be at 1.45 billion shares of 20 sen each.
Seremban Engineering Bhd (SEB) has proposed to dispose of its entire 40% equity interest in loss-making associate Selekta Spektra Sdn Bhd to Grand River Marketing Sdn Bhd for RM10 million.
SEB expects to net a one-off gain from the proposed disposal of RM1.28 million, which it plans to use as working capital.
In a filing with Bursa Malaysia, SEB (fundamental: 0.15; valuation: 0.9) said it has entered into a conditional share sale agreement (SSA) with Grand River Marketing for the proposed disposal of 2.37 million shares, representing its 40% stake in Selekta Spektra, at approximately RM4.22 per share.
The completion of the agreement is conditional upon the approval of Selekta Spektra and SEB's board of directors respectively for the sale within three months of the SSA.
SEB said the purchase price for the stake is "fair and reasonable" as Selekta Spektra, which is involved in the provision of landfill services, waste pre-treatment and waste excavation services, has not been profitable since SEB invested in the company and that there is no synergistic value to its investment.
Payment service provider GHL Systems Bhd has teamed up with the Philippine's leading mobile brand Globe Telecom to widen its reach into the small and medium enterprise community in the republic via the latter's mobile point-of-sale service Global Charge that can turn any tablet or smartphone into a credit card terminal.
The tie up was made by GHL System's wholly-owned subsidiary GHL Systems Philippines Inc (GHL PH) with Globe Telecom's wholly-owned unit, G-Xchange Inc (GXI), said GHL Systems (fundamental: 1.20; valuation: 0.60) in a press statement.
This partnership will enable GHL PH and GXI tap a bigger market and help micro, small, and medium enterprises (MSMEs) expand their businesses by enabling credit card payments using mobile payment solution.
Baby products and condoms maker Takaso Resources Bhd saw 38.43 million of its shares, representing an 18.8% stake in the company, crossed off-market today and yesterday for RM13.69 million.
According to Bloomberg data, out of the shares traded, 32.43 million shares were moved at 33 sen apiece, while the remainder 6 million shares were moved at 50 sen each.
It is not known immediately who the parties involved in the transactions were.
The current three largest shareholders of Takaso are: OCR Land Holdings Sdn Bhd (15.01%), Nextplus Fortune Sdn Bhd (14.46%) and Kombinasi Emas Sdn Bhd (8.94%).
Kumpulan Wang Persaraan Diperbadankan (KWAP) ceased to be the substantial shareholder of Top Glove Corp Bhd after disposing of 1.18 million shares or a 0.19% stake on the open market.
In a filing to the Bursa Malaysia, Top Glove (fundamental: 2.5; valuation: 1.1) said KWAP disposed of two blocks of shares totaling 205,500 shares, of which 179,500 shares were disposed of by KWAP's fund manager and 26,000 shares were disposed of by KWAP in open market on July 13.
Following the disposal, KWAP had 31.68 million shares in the glove maker, translating to a direct and indirect stake of 4.302% and 0.82%, respectively.
In a separate filing, KWAP disposed of another two blocks of shares, totaling 977,600 and ceased to be the substantial shareholder on July 14.
Upon completion of the disposals, KWAP owns a total of 30.7 million shares representing 4.97% equity in the company.
Firefighting equipment specialist Fitters Diversified Bhd plans to acquire a 40% stake in Germany-based A.H.T. Syngas Technologies N.V. (AHT Syngas) for RM6.6 million, to move up the value chain in the renewable energy business.
In a statement, the group said its wholly-owned subsidiary Future NRG Sdn Bhd (FNRG) will undertake the acquisition of 600,000 shares in AHT Syngas at €2.665 apiece or €1.6 million in total (approximately RM6.6 million).
Fitters said AHT Syngas is a leading player in designing and manufacturing of biomass and coal co-generation systems and technologies. It also has a proven track record in power plant set up in various countries, such as India, Indonesia and Japan.
Fitters' managing director Datuk Richard Wong said by having a significant stake in AHT Syngas, Fitters will have further access to AHT Syngas' technologies and markets, courtesy of AHT Syngas' expansion into Asia, including China and the Southeast Asia region.
The purchase consideration of approximately RM6.6 million will be funded by internally generated funds and the stake buy is expected to be completed by early-August 2015.
Fitters (fundamental: 1; valuation: 1.8) also noted that last year, FNRG and AHT Services agreed to collaborate to set up a joint venture company targeting the renewable energy power generation sector in the Southeast Asia region.
Mexter Technology Bhd's managing director and chief executive officer Ivan Sia Teck Fatt continues to pare his stake in the ACE Market-listed company, this time selling a total of 7.72 million shares through the open market.
A filing with Bursa Malaysia today showed that Sia sold one-fifth or 3.926% of his holdings in the company — 5.5 million shares or 2.795% on Monday and another 2.22 million shares or 1.131% — yesterday for RM695,241 or 9 sen per share.
After the shares disposal, he holds a direct interest of 12.02% or 23.66 million shares in Mexter.
Sia had sold 4.4 million shares, also in the open market, the week before. In a span of two weeks, Sia has sold down his equity interest in the company by 33.9%.
Mexter (fundamental: 1.15; valuation: 0.3) is in the e-manufacturing business and helps high volume discrete and hybrid manufacturers to efficiently operate their production assets.
(Note: The Edge Research's fundamental score reflects a company's profitability and balance sheet strength, calculated based on historical numbers. The valuation score determines if a stock is attractively valued or not, also based on historical numbers. A score of 3 suggests strong fundamentals and attractive valuations.)