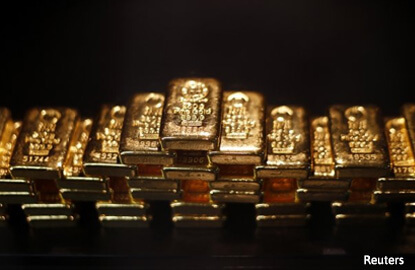 BENGALURU (Jan 19): Gold prices were down on Thursday on a strong dollar, after Federal Reserve Chair Janet Yellen advocated lifting U.S. interest rates gradually.
Spot gold was down 0.1% to US$1,202 per ounce by 0600 GMT, after dropping to as much as US$1,197.31. The bullion hit an eight-week high of US$1,218.64 on Tuesday.
 
U.S. gold futures fell as much as over 1% to US$1,197.10.
The dollar index, which measures the greenback against a basket of currencies, rose 0.3% to 101.230.
With the U.S. economy close to full employment and inflation headed toward the Federal Reserve's 2% goal, it "makes sense" for the U.S. central bank to gradually lift interest rates, Fed Chair Janet Yellen said on Wednesday. 
"(Yellen's) speech was interpreted as being bearish for gold," said INTL FCStone analyst Edward Meir, adding that the metal could be under more pressure later in the day, as the Fed chair speaks on U.S. monetary policy again on Thursday.
Dallas Fed President Robert Kaplan on Wednesday joined the chorus of central bank officials making a case for a gradual hike in U.S. interest rates. 
"We would view any short-term weakness, as a buying opportunity in gold, given that we do not think the Fed will be pushing the higher rate trajectory story so aggressively over the short-term," Meir said.
"The Fed would want to first wait and see what kind of fiscal policies Donald Trump formulates and sends to Congress." 
U.S. consumer prices increased in December, as households paid more for gasoline and rental accommodation, leading to the largest year-on-year increase in 2-1/2 years and signaling that inflation pressures could be building. 
Positive data usually puts pressure on gold prices, because investors raise bets on a U.S. interest rate hike that would increase the opportunity cost of holding non-yielding bullion.
"We can still say there is an inverse relation between dollar and gold, as we are waiting to hear from Trump on his policies. We can expect random shocks from him," said Mark To, head of research at Hong Kong's Wing Fung Financial Group.
"There should be some consolidation around the US$1,200 levels for sometime."
U.S President-elect Donald Trump has called for tax cuts and more infrastructure spending, which has boosted U.S. shares and the dollar and seen a sell-off in Treasuries. His protectionist statements and off-the-cuff tweets have led many investors to opt for gold.
Gold, considered a safe-haven investment during times of geopolitical and financial uncertainty, has risen more than 7% since dropping to a more than 10-1/2-month-low in December.
Silver fell 0.2% to US$16.98 an ounce.
Platinum was flat at US$961.20, while palladium was down 0.1% to US$747.70.