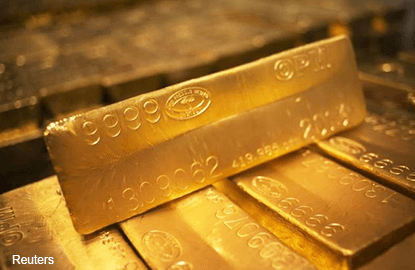 (Feb 24): Gold prices held steady on Friday near 3½-month highs hit in the previous session amid tempered expectations of a US rate hike in March and as investors awaited clarity on President Donald Trump's economic policy.
Spot gold was mostly unchanged at US$1,249.37 per ounce at 0326 GMT after hitting its highest since Nov 11, 2016 at US$1,251.14 in the previous session. The metal has gained more than 1% so far this week.
US gold futures were also firm at US$1,250.80.
"Thursday's action showed us that gold bugs assumed that the US Federal Reserve will likely stand pat in March and may not move until much later," INTL FCStone analyst Edward Meir said.
While many Fed policymakers said it may be appropriate to raise interest rates again "fairly soon," according to the minutes of the central bank's last policy meeting, they also hinted at the depth of uncertainty at the bank over lack of clarity on the new administration's economic programme.
Investors were looking ahead to an address by Trump to Congress next week for further clarity on his economic policy.
Trump told chief executives of major US companies on Thursday that he planned to bring millions of jobs back to the United States, but offered no specific plan on how to reverse a decade-long decline in factory jobs.             
Meanwhile, US Treasury Secretary Steven Mnuchin on Thursday laid out an ambitious schedule to enact tax relief for the middle class and businesses by August.                 
Mnuchin's comments "... signaling a delay until August of the much vaunted tax reform package, gave gold bulls the uncertainty green light they needed to take the yellow metal higher," said Jeffrey Halley, a senior market analyst at OANDA.
Political uncertainty, including elections in Europe, has offered broad support to gold, which has risen over 8% this year.
"Even in the event of a rate increase, we doubt the precious metal will lose much ground ahead of the key presidential elections in France in April, coupled with the Washington gridlock that seems to be calcifying with greater intensity after each passing day," Meir said.
Spot gold may gain more to US$1,278 as it has more or less broken above a resistance at US$1,249, Reuters technical analyst Wang Tao said.             
Meanwhile, silver rose 0.2% to US$18.20 per ounce, near a 3½-month high of US$18.22 touched in the previous session. Silver was on track to end the week up about 1%, its ninth straight weekly gain.
Platinum edged up 0.1% to US$1,007 per ounce, while palladium rose 0.2% to US$774.25.