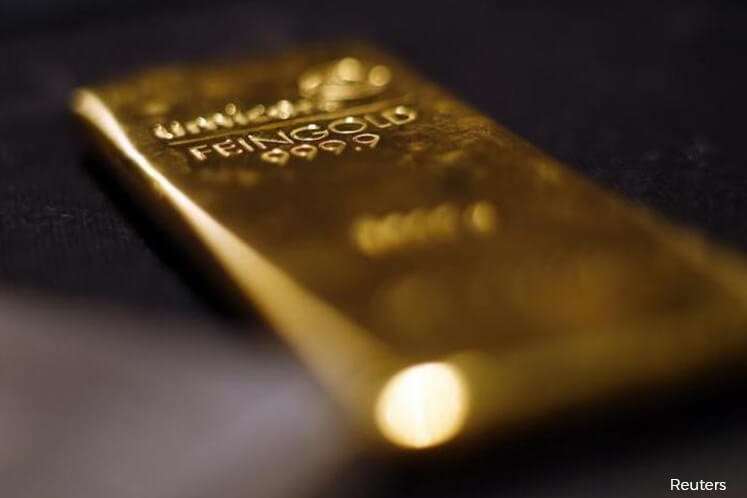 LONDON (March 28): Gold prices held steady near one-month highs on Tuesday, supported by political and economic uncertainty in the United States and expectations of a lower dollar.
Spot gold was little changed at US$1,253.41 an ounce at 1124 GMT, after touching its highest in a month at US$1,261.03 on Monday. US gold futures inched down 0.2% to US$1,253.30.
Traders report more investor buying interest after US President Donald Trump failed to push through healthcare reform, fuelling concern about his ability to implement his economic policies.             
That worry also saw the dollar against a basket of currencies hit a four-and-a-half month low on Monday. This makes dollar-denominated gold cheaper for holders of other currencies, potentially boosting demand.       
"The dollar has come under a lot of pressure and lifted gold," said Julius Baer analyst Carsten Menke. "Changing perceptions of the outlook for US interest rates will create volatility in gold."
The US Federal Reserve raised rates earlier this month, boosting the dollar, which could strengthen further on expectations of further rises after comments from its policymakers.                                       
However, some analysts expect to see the Fed on hold for some time, leaving the dollar to drift lower.
"Dollar weakness is something that could propel prices higher, especially in light of the latest CFTC report that shows dollar longs building for a third week in a row despite ongoing weakness," said INTL FCStone analyst Edward Meir in a note.
"This tells us that much more length remains to be disgorged, potentially being constructive for gold."
Investor demand for gold can be seen in the world's largest gold-backed exchange-traded fund, New York-listed SPDR Gold Shares, which reported an inflow of 2.7 tonnes on Monday.
Traders say technical resistance for gold is around US$1,260, near the 200-day moving average, while support kicks in at Fibonacci retracement level around US$1,245.
In other metals, spot silver fell 0.2% to US$18.04 per ounce and platinum slipped 0.1% to US$962.50 per ounce.
Palladium slipped 0.9% to US$786.23 an ounce. The industrial metal used in autocatalysts hit US$815.40 an ounce last week, its highest since March last year of expectations of growing demand from car makers.
But analysts say palladium's fundamentals do not justify current price levels.
"US car sales are moving sideways, inventories are rising and dealers are upping incentives," Menke said.
"China's car sales numbers for March will be crucial, profit-taking will be triggered if weakness is confirmed. European sales are solid, but slowing from last year."