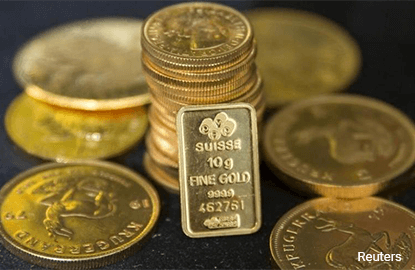 LONDON/BENGALURU (Feb 1): Gold retreated on Wednesday as the dollar firmed ahead of an interest rate decision by the U.S. Federal Reserve, which is expected to provide clues on monetary policy this year.
Gold is highly exposed to interest rates, particularly in the United States, as higher rates lift the opportunity cost of holding non-yielding assets and boost the dollar, in which gold is priced.
The Fed is expected to keep U.S. interest rates unchanged on Wednesday, in its first policy decision since President Donald Trump took office, as the central bank awaits greater clarity on his economic policies. 
"Gold is waiting to see what might happen later today, so it isn't moving much," said Bernard Dahdah, a precious metals analyst at asset manager Natixis.
"General sentiment in the market is that the Fed will probably stick with the same message in favour of a Fed rate hike in June."
Spot gold was down 0.3% at US$1,206.75 an ounce by 1317 GMT, after hitting US$1,215.31 in the previous session.
U.S. gold futures fell 0.2% to US$1,209 an ounce.
Gold gained more than 5% in January — its best month since June 2016 — as the dollar suffered its worst start to the year in three decades, hurt by Trump's comment that every "other country lives on devaluation."
The dollar index, which measures the greenback against a basket of currencies, firmed to 99.678 on Wednesday.
ETF Securities said it expects gold to end the year at US$1,230 per ounce about 2.5% from Tuesday's close.
"Gold prices could rise 8 percent in the first half of the year, aided by a weaker dollar. However, the dollar strengthening in the second half of the year and subdued enthusiasm for the metal in the futures market could drive a sell-off."
The bullish view is underscored by some of Wall Street's largest fund managers betting on gold, wagering that Trump's governing style and upcoming elections in Europe will combine to create more stock market volatility and boost demand for the metal seen as a safe haven. 
Spot silver inched up 0.2% to US$17.58 an ounce, after touching its highest in more than 11 weeks at US$17.61.
Platinum was flat at US$994.50 an ounce. Palladium briefly touched its best in a week, but pared gains to trade to up 1% at US$760.20.