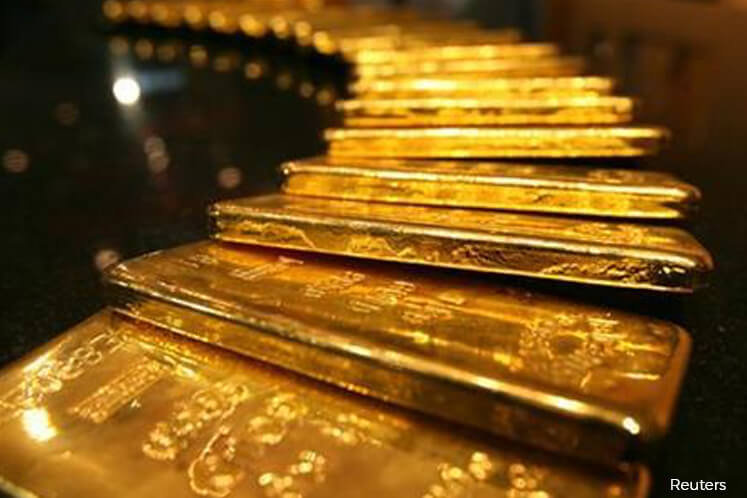 LONDON (April 10): Gold steadied on Monday after dropping back sharply from the previous session's five-months highs, with a firmer US dollar counterbalancing concerns over geopolitical tensions in North Korea and the Middle East.
Spot gold stood at US$1,253.30 an ounce at 0945 GMT, little changed from late on Friday, while US gold futures for June delivery were down US$2.50 at US$1,254.80.
The metal rose above US$1,270 on Friday for the first time since early November after much weaker than expected US jobs data curbed expectations for near-term increases to US interest rates and afte the United States launched a missile strike on a Syrian air base.
It fell back quickly in later trade, however, failing once again to beat key chart resistance at its 200-day moving average, which has broadly capped gains since October.
"We've tried several times to break above this level, and every time it is pushed back," ABN Amro analyst Georgette Boele said. "That is not a positive sign in the near term.
"If you look at the other drivers as well, like US yields and signals from the Fed, it is a difficult environment to have a runaway rally in gold. I still think you have some upward pressure, but there will be battles."
The US dollar started the week near three-week highs against a basket of currencies after a key Federal Reserve official reinforced the US central bank's commitment to continue raising interest rates.       
Expectations that the pace of US rate increases will pick up this year have proved a major drag on gold. Rising US rates increase the opportunity cost of holding non-yielding bullion and boost the US dollar, in which it is priced.
The wider financial markets took on a more cautious tone on Monday, however, with trading volumes muted by geopolitical tensions in the Middle East and the Korean peninsula.
Top aides to US President Donald Trump differed on Sunday on where US policy on Syria was headed after last week's attack on a Syrian air base, while US Secretary of State Rex Tillerson warned that the strikes were a warning to other nations, including North Korea.                         
"Geopolitical tensions are likely to be supportive and may put the brakes on what would otherwise be a retracement from the mid-March uptrend," MKS said in a note.
Among other precious metals, silver was down 0.3% at US$17.90 an ounce, having hit its highest since Feb 27 at US$18.47 on Friday. Platinum lost 0.3% to US$948.74, while palladium slipped by 0.4% to US$798.10.