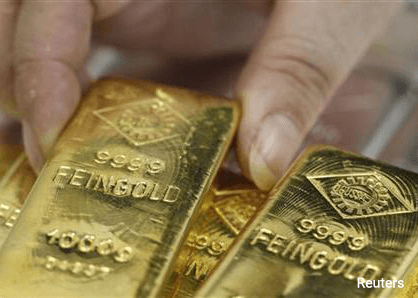 LONDON (Jan 19): Gold steadied on Thursday after suffering its biggest fall in more than a month in the previous session on Federal Reserve chair Janet Yellen's indication that the US central bank would press ahead with interest rate increases.  
Gold fell by 1.1% on Wednesday, the most since Dec 15, after Yellen's remarks lifted the dollar by as much as 2%, making gold more expensive for holders of other currencies. US bond yields, meanwhile, rose to their highest since Jan 9, reducing the attraction of non-yielding bullion.  
Spot gold continued to fall in early trading on Thursday, touching a low of US$1,197.3 an ounce before recovering to US$1,204.40 at 1317 GMT, up 0.1% on the day.
"Some people will have been short and are maybe taking profit on those positions. Other perhaps see a dip below US$1,200 as an opportunity to buy," said Tom Kendall at ICBC Standard Bank.
The dollar also slipped back from Wednesday's highs, helping gold to recover.
US gold futures were down 0.6% at US$1,204.9 an ounce.
Data released before Yellen's speech showed that US consumer prices increased in December at their fastest pace in 2½ years, indicating that inflation pressures could be building.
Yellen will speak again on Thursday, after European markets close, about the economic outlook and monetary policy.
Investors were also looking ahead to the inauguration on Friday of President-elect Donald Trump, who has mixed promises of tax cuts and infrastructure spending with protectionist statements that have increased demand for gold as a safe haven.
Analysts said that gold's wobble could signal the end of a rally that has lifted the metal by 8% from a mid-December low to hit an eight-week high of US$1,218.64 on Tuesday.
"It's kind of running out of steam unless there's news coming that will bring more money back in," said Kendall. "If you see the market close beneath yesterday's low, then you've got to look for a return back to the mid-1,100s at least."      
Analysts at MKS said that demand from Chinese investors had been weak and the recovery above US$1,200 looked frail.
"We are likely to test below the figure once again and target support at US$1,190 and US$1,180," they said.
In other precious metals, silver fell 0.4% to US$16.98 an ounce, platinum was up 0.2% at US$963.49 and palladium was up 0.2% at US$749.47 an ounce.