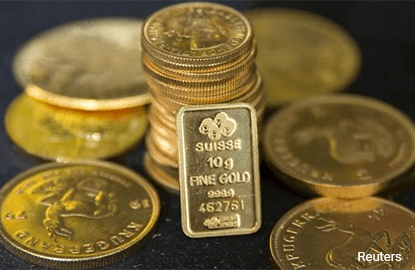 (Feb 13): Gold slipped on Monday as the US dollar strengthened against the yen, with the greenback buoyed by a smooth meeting between US President Donald Trump and Japanese Prime Minister Shinzo Abe that saw no mention of currency policy.
Spot gold shed 0.3%, to US$1,229.77 per ounce at 0320 GMT, while US gold futures fell 0.4%, to US$1,231.
The dollar index was up 0.16% to 100.960, with the greenback risng against the yen on relief that Trump set aside his tough campaign rhetoric over security and jobs in a meeting with the Japanese Prime Minister over the weekend.
"Quietness on the protectionism front and a rekindling of the Trump-flation trade is taking the wind out of gold's safe-haven sails," said Jeffrey Halley, senior market analyst at OANDA.
A senior Japanese government spokesman said Abe and Trump did not discuss currency issues and that Trump did not request a bilateral trade deal.
The US dollar had suffered its worst January in three decades after President Trump complained that every "other country lives on devaluation."
The US currency also found broad support from comments by Trump on Thursday that he planned to announce an ambitious tax reform plan in the next few weeks, rekindling hopes for big tax cuts.
Spot gold may revisit its Feb. 10 low of US$1,221.02 per ounce, as its correction from the Feb 8 high of US$1,244.67 has not completed, according to Reuters technical analyst Wang Tao.
Speculators raised their bullish wagers in COMEX gold to the highest in two months in the week to Feb 7, and raised it slightly in silver, US Commodity Futures Trading Commission data showed on Friday.
In other precious metals, spot silver was mostly unchanged at US$17.95 per ounce, after touching US$18, the highest since Nov 11, 2016, earlier in the session.
Platinum eased by 0.3%, to US$1,007.15 per ounce.
Palladium was mostly flat at US$783.73 per ounce, after hitting US$786.90, its highest level in over two weeks.