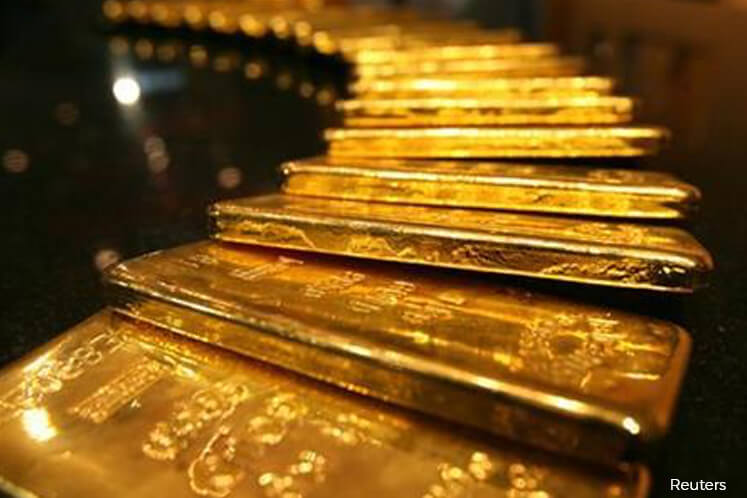 LONDON (March 30): Gold dipped on Thursday as the US dollar strengthened, but economic uncertainty around Britain's departure from the European Union and the approaching French elections capped losses.
"We might see support from the French elections if the results are better than expected," Bernard Dahdah, a precious metals analyst at Natixis, said.
Emmanuel Macron is on course to come out on top of the first round of France's presidential election next month and go on to win the May 7 runoff against far right leader Marine Le Pen, an Elabe poll showed on Wednesday.             
Gold is often seen as an alternative investment during times of geopolitical and financial uncertainty.
Spot gold was down 0.1% at US$1,250.66 an ounce by 0726 GMT. US gold futures slipped 0.3% at US$1,250.
In Britain, Prime Minister Theresa May formally began divorce from the EU on Wednesday, saying there was no turning back.             
"The market seemed to take the notification of the Article 50 in the UK relatively smoothly, but I suspect the worst is yet to come on that," said ANZ analyst Daniel Hynes.  
"But certainly, there was a tiny bit of safe-haven buying."
The US dollar edged up to a nine-day high against a basket of currencies on Thursday, pressuring gold.       
A strong greenback makes US dollar-denominated gold more expensive for holders of other currencies, potentially lowering demand.
The US dollar was also boosted by Chicago Fed President Charles Evans, who said he was in line with most of his colleagues in supporting further rate hikes this year.             
In other precious metals, spot silver slid as much as 0.5% to US$18.15 an ounce, after hitting a four-week high of US$18.25 in the previous session.
Platinum rose 0.4% to US$955.20 per ounce, while palladium was flat at US$789.