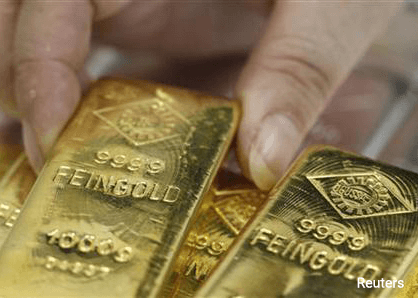 LONDON/SINGAPORE (Sept 3): Gold edged lower on Thursday, under pressure from a stronger dollar and share markets as investors awaited a European Central Bank policy meeting and a U.S. jobs report that could provide clues on the timing of a Federal Reserve rate rise.
The ECB is set to cut its inflation forecasts due to falling oil prices and China's economic slowdown, while it is expected to leave rates unchanged.
As a traditional hedge against inflation, gold could suffer from a downward revision of oil-led inflation.
The main focus, however, remains Friday's U.S. jobs data, which should give a clearer picture about the strength of the world's biggest economy.
"Only amazingly good U.S. data would bring the prospect of the rate hike back to September from December," Citi strategist David Wilson said. "That could put immediate further pressure on the gold price."
Spot gold was down 0.4% at US$1,129.46 an ounce by 0942 GMT, while U.S. gold for December delivery slipped US$4.70 to $1,128.90.
The dollar climbed against a low-yielding euro and safe-haven yen on Thursday as global investors stepped back into riskier equities, hurting bullion.
The technical picture for gold looked bearish with near-term support at US$1,117, ScotiaMocatta analysts said.
"We are bearish gold so long as it trades below the recent high of $1,170."
U.S. private payrolls data on Wednesday suggested labour market momentum likely remained strong enough for the Fed to consider an interest rate rise this year. Non-farm payrolls are due at 1230 GMT on Friday and will be preceded by weekly jobless claims data on Thursday.
"Gold is awaiting the payroll data for indications of Fed intentions at the September FOMC meeting. So the market may move sideways until the numbers are released," said HSBC in a note, referring to the Fed's Federal Open Market Committee.
A strong jobs report could prompt the Fed to increase rates sooner than later.
Bullion traders remain wary of taking up new positions until they receive more clarity on whether the Fed will raise rates at its next meeting on Sept 16-17, analysts said.
Higher interest rates would increase the opportunity cost of holding non-yielding bullion.
Also weighing on bullion was the absence of Chinese buyers. Markets in China, a major gold consumer, are closed on Thursday and Friday for public holidays.
Tepid Chinese demand over the holidays will keep gold prices capped, along with the uncertainty over U.S. rates, HSBC said.
Other precious metals were also under pressure, with silver down 0.4% to US$14.64 an ounce and platinum falling about 0.5% to US$1,007.50. Palladium bucked the downtrend, up 0.4% at US$586.