This article first appeared in Personal Wealth, The Edge Malaysia Weekly, on February 4, 2019 - February 10, 2019.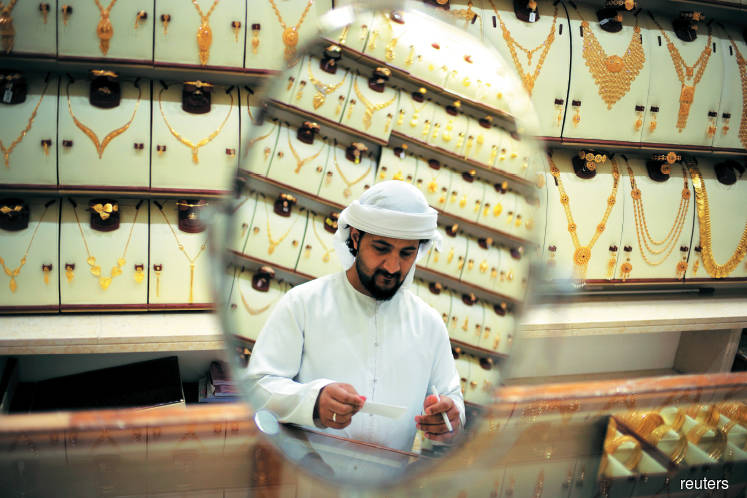 A business owner preparing a receipt in his gold store at Gold Souq in Abu Dhabi, UAE. Photo by Reuters
Gold could breach the US$1,400 per oz mark in the next 12 months, even as investors look for stability in the traditional safe-haven asset amid slowing global growth, the decreasing allure of the US dollar and rising geopolitical tensions.
"The long-term fundamentals for gold are strong because of a lot of the global issues have been simmering over the past 12 to 24 months. And it is likely to persist or get worse, rather than get better," says Robin Lee, co-founder and CEO of HelloGold, a shariah-compliant platform that buys, stores and sells investment-grade gold for as little as a fraction of a dollar.
He adds that during times of economic uncertainty, more people turn to gold because of its enduring intrinsic value.
Last year, gold dipped by almost 5% on the back of concerns over interest rates hikes by the US Federal Reserve and the US dollar rally. According to data provided by Canada-based precious metals trader Kitco, gold sunk to its lowest in September to US$1,182.40 after US economic data was released, indicating that the Fed would continue to increase interest rates. This and other factors caused the price of gold to remain low throughout most of the year.
However, gold got a boost in early January from mounting speculation that the Fed may delay raising borrowing costs, amplifying the appeal of the precious metal. The announcement led Goldman Sachs to predict that the metal could climb to US$1,425 per oz (one troy oz is about 31.1g) in the next 12 months — a level unseen in more than five years. As at Jan 28 this year, the gold price stood at US$1,301.37 per oz.
The trade war between the US and China which caused significant market volatility last year, fears over China's domestic slowdown amid declining consumer demand and its enormous US$34 trillion public and private debt were contributing factors to the rise in gold prices. Other factors included geopolitical turmoil such as the month-long partial US government shutdown, the postponement of the UK House of Commons' Brexit vote and political upheavals in other parts of Europe.
"These are the foundations that led up to the forecast, but it is very hard to tell when [the price of gold] is going to go up or down. The best that anyone can predict is that the chances of gold moving up is much greater now than before," says Lee, who believes that there is more upside potential.
US-based investment firm Legg Mason says investors remain optimistic that gold will shine in 2019 as they search for stability. According to the firm's Global Investment Survey 2018, 23% of the 16,810 investors polled said they saw gold as one of the best investment opportunities this year, unchanged from 2017.
Oanda Corp head of trading for Asia-Pacific Stephen Innes says the outlook for gold is bolstered by the diminishing appeal of the US dollar as a safe haven. The volatility of the global stocks markets is not expected to subside any time soon, he adds. "Equity markets remain extremely fragile due to global growth concerns."
However, for gold to go up to Goldman Sach's predicted level of US$1,425, the US central bank would have to cut its target interest rate hikes, says Innes. "The Fed cutting [interest rates] would suggest that the US equity markets are in a world of pain. However, the bar remains very high for a cut and I think a hike is more likely at this stage."
Singapore Precious Metals Exchange vice-president Chris Gan points out that one of the reasons to add gold to one's portfolio is to hedge against inflation. Despite the fact that the metal pays no interest or dividend, he says the lustre of gold is in its storage value.
"As volatility [in the global markets] spike, people are more comfortable with gold because they want to use it as a hedge. For example, at the height of the US subprime mortgage crisis, gold was at its highest point," says Gan.
According to personal finance website The Balance, gold shot up to US$869.75 per oz during the 2008 global financial crisis. The precious metal reached a record US$1,895 per oz on Sept 5, 2011, in response to worries that the US would default on its debt, it adds.
As the price of gold often moves in the opposite direction of the US dollar, the metal is likely to strengthen if the greenback weakens, says Gan. But as it is with most safe havens, gold should ideally make up 5% to 10% of any investment portfolio, he adds.
Lee, on the other hand, considers gold as a form of protection. "I have a slightly different view from most people. I look at gold like I look at house insurance. Every year, you renew your house insurance and you hope that nothing happens. So, sometimes it may feel like a complete waste of money. But when something happens and you need to use that insurance, you will be happy that you have house insurance," he says.
"If you have excess cash, where will you put it now? Will it be in equities or fixed income, or in real estate? Equities are getting pretty expensive, fixed income will come under pressure when interest rates go up and there is downward pressure on real estate in Asia. In this scenario, you can consider gold.
"I think it is always a good time to have a bit of gold in your portfolio. There is never a bad time to own the precious metal."
Innes says gold should be a key part of any long-term investment strategy. "For those new to the game, gold also provides some peace of mind against an equity market meltdown."
Apart from investing in physical bullion or gold jewellery, gold exchange-traded funds (ETFs) are another way to have exposure to the metal in your portfolio without the hassle of storing the physical asset. Popular ETFs that track the precious metal include the SPDR Gold Shares, iShares Gold Trust, Invesco Physical Gold ETF and Aberdeen Standard Phys SwissGold Shr ETF.
There are also unit trusts that offer exposure to gold such as the RHB Gold and General Fund. This option is typically a basket of precious metals or stocks of mining companies.