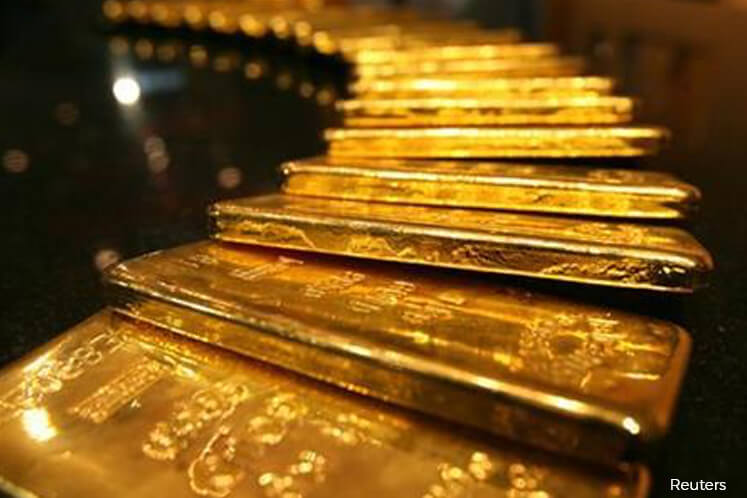 (March 31): Gold was on track for a 7.9% quarterly rise on Friday, its best quarter in a year, as uncertainty over US President Donald Trump's tax and investment plans and a series of elections in Europe fuelled demand for bullion as a safe haven.
Spot gold was flat at US$1,243.20 an ounce at 1119 GMT. US gold futures were down 0.3% at US$1,241.90 an ounce.    
Though up on a quarterly basis, gold fell 0.7% on Thursday, its biggest one-day drop in more than three weeks, after failure to break resistance at its 200-day moving average triggered technical selling.
It was on track to end the week down 0.1%.
"In the short term, factors including a strengthening US dollar could pull prices down to around US$1,230 an ounce," said Yuichi Ikemizu, head of commodity trading at Standard Bank in Tokyo.
The US dollar was on course for its best week this year, helped by better-than-expected US economic growth data and comments by the president of the New York Federal Reserve that reinforced expectations of US interest rate hikes this year.       
A stronger US dollar makes bullion more expensive for holders of other currencies, while higher interest rates lead to higher bond yields and dampen demand for non-yielding gold.
But gold is underpinned in the coming months by doubts over Trump's ability to enact tax cuts and investment spending and an uncertain political outlook in Europe.
The buying of gold as a haven from risk, plus a recovery in Indian buying, are likely to push prices to an average US$1,259 an ounce this year, GFMS analysts at Thomson Reuters said in their Gold Survey 2017, published on Friday.             
A failure by Trump to make progress on his stimulus plans would reduce the chances of a rise in US interest rates in June, Tom Kendall at ICBC Standard Bank said in a note.
"That in turn would likely give gold the impetus to break up through US$1,300 again," he said.
In other precious metals, spot silver was down 0.1% at US$18.06 an ounce, having touched US$18.29, its highest in four weeks, in the previous session. Silver has risen 13.3% this quarter.
Platinum was 0.2% higher at US$944.80 an ounce and is up 4.6% this year.
Palladium was up 0.4% at US$797 an ounce. The metal used in catalytic converters that curb pollution from vehicle exhausts has risen over 17.1% this quarter.