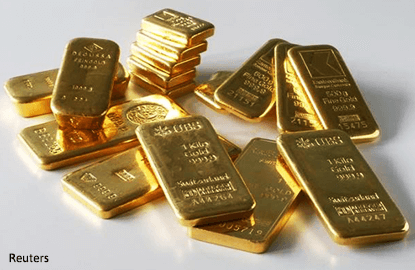 LONDON (March 24): Gold was on track for a second weekly gain on Friday as concern about the ability of US President Donald Trump to push legislation through Congress held the US dollar near seven-week lows, making bullion cheaper for holders of other currencies.
Spot gold was flat at US$1,244.63 an ounce at 1309 GMT. The metal has risen 1.4% this week and on Thursday touched US$1,253.12, its highest since Feb 28.
US gold futures were down 0.2% at US$1,244.80 an ounce.
Gold, seen as a safe haven asset, has benefited from falls in the US dollar, US bond yields and stocks this week as Trump's difficulty in passing healthcare reform has undermined faith that he can deliver on promises of tax cuts and investment.
Trump has set up a showdown with lawmakers by demanding support for the healthcare bill in a do-or-die vote on Friday.
"This is a key event not just for gold but for all risk assets," said Robin Bhar at Societe Generale.
"We should see some safe haven flows into gold if he can't get it passed because it means all his other programmes have a low probability of succeeding," he said.
Failure to pass the bill could push gold through technical resistance at around US$1,250, analysts said.
"If the market can consolidate above US$1,250 in the coming days we could see an attempt at the 200-day moving average of US$1,259.50," Tim Brown at MKS PAMP wrote in a note.
Away from Congress, focus could move to the US Federal Reserve. Three Fed officials, Charles Evans, James Bullard and William Dudley, are due to speak on Friday.             
Investors are wary that the Fed could increase the pace of interest rate rises, which tend to pressure gold prices by lifting the opportunity cost of holding non-yielding bullion and boosting the US dollar, in which gold is priced.
"Even the doves (are) now openly talking about the need for another three hikes this year," analysts at ING wrote in a note.
Silver was up 0.5% at US$17.63 an ounce. Platinum was 0.2% higher at US$960 an ounce.
Palladium was up 1.6% at US$811.70 an ounce, having hit a two-year high of US$813.70 earlier in the session.
The metal used in catalytic converters that curb pollution from vehicle exhausts has risen 5.1% this week thanks to strong economic data and demand from the automobile sector.