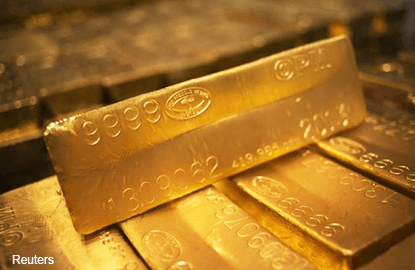 (Feb 2): Gold edged up on Thursday, as the US dollar weakened after the US Federal Reserve kept interest rates unchanged at its first meeting since President Donald Trump's inauguration.
Spot gold rose 0.44%, to US$1,214.45 per ounce at 0321 GMT, while US gold futures were up 0.7%, to US$1,216.7.
The US dollar index edged lower 0.1% to to 99.540.
The Fed kept interest rates unchanged on Wednesday in its first meeting since President Donald Trump took office, but painted a relatively upbeat picture of the US economy that suggested it was on track to tighten monetary policy this year.
"I see gold being slightly bid in the short term as the US dollar weakness continues non-commercial longs speculating on the US dollar index have been trimming their positions since the beginning of the year and the Fed appears to remain dovish or wait and see," said Nicholas Frappell, General Manager with ABC Bullion
Spot gold may retest a resistance at US$1,219 per ounce, as it has found a support at US$1,197, according to Reuters technical analyst Wang Tao.
"The sharp rebound after a pull down below US$1,200 and the Asian pricing model, despite the Chinese New Year, seems favorable and we see a lot of bullish signals," said Spencer Campbell, General Manager with Kaloti Precious Metals, Singapore.
"We are sort of eyeing the US$1,225 levels in the next move if the metal breaks the recent highs of around US$1,215 levels next week."
The yellow metal gained more than 5% in January — its best month since June 2016 — as the US dollar suffered its worst start to the year in three decades."
"The global growth story seems to be improving immeasurably just as the political outlook grows increasingly cloudy across a number of geographies, which is why we are on balance, friendly to gold heading into a very uncertain year," said INTL FCStone analyst Edward Meir.
Factories across the world fired up — or at least kept up — activity in January with some registering multi-year output highs, just as a barrage of political risks threatens the global economy with potential harm.
Meanwhile, investors also turned their attention to a quarterly report from the Bank of England on Thursday. The BoE was expected to avoid adding to speculation about a first interest rate hike in nearly a decade, even as it acknowledges the resilience of Britain's economy since last year's Brexit vote shock.
In other precious metals, spot silver rose 0.34%, to US$17.57 per ounce, while platinum was up 0.35%, to US$999.49. Platinum earlier touched US$1004.6, a peak since Nov 10, 2016.
Palladium was mostly unchanged at US$762.50 per ounce.