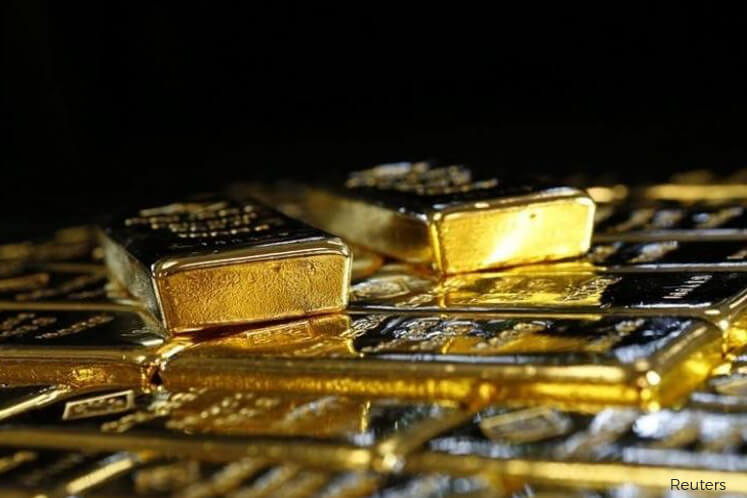 (April 4): Gold prices hit one-week highs on Tuesday, buoyed by a weaker dollar on tepid economic data from the United States and as investors turned to safe-haven assets on worries over geopolitical tensions.
Spot gold had risen 0.4% to US$1,257.73 per ounce at 0658 GMT, while US gold futures were up 0.5% at US$1,259.9.
Spot gold hit its highest since March 28 at US$1,257.97.
A measure of US manufacturing activity retreated from a 2½-year high in March amid a decline in production and an inventory drawdown.             
"The data overnight gave some joy to gold investors. Weaker-than-expected numbers are supporting the view that the US Federal Reserve is not going to raise rates more than a couple of times this year," ANZ analyst Daniel Hynes said.
Investor appetite for risk has been dulled this week by a number of factors, such as caution ahead of the upcoming meeting between US President Donald trump and Chinese President Xi Jinping and a suspected suicide bombing in St. Petersburg, Russia.             
"The critical uncertainty has been a big feature of buying in the gold markets and events overnight in Russia just emboldened the view and is continuing to support safe-haven buying," Hynes added.
"The market is starting to position itself for a potential break higher ... Net long positions in gold have started to peak again and investors are a little more bullish about the outlook."
Hedge funds and money managers raised their net long position in COMEX gold by 33,179 to 99,150 lots in the week to March 28, the highest in more than three weeks.             
Holdings of SPDR Gold Trust, the world's largest gold-backed exchange-traded fund, climbed 0.53% to 836.77 tonnes on Monday from 832.32 tonnes on Friday.          
The dollar extended overnight losses and was down 0.4% at 110.40 yen after hitting 110.32, its lowest in a week.
"The US dollar continued to trade offered throughout the Asian session, providing underlying support to (gold) prices," MKS PAMP Group trader Sam Laughlin said.
"Gold is once again running up against the 200 day-moving average around US$1,258 and will target a sustained move through the recent high of US$1,262–US$1,265 to recommence the uptrend from the December low."
A stronger greenback makes dollar-denominated gold more expensive for holders of other currencies.
Spot silver rose 0.4% to US$18.30. The metal hit an over one-month high of US$18.35.
Platinum rose 0.1% to US$952.74. It earlier touched a one-week high of US$960.40.
Palladium fell 0.1% to US$801.70.