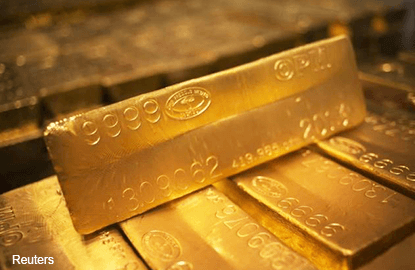 LONDON (Jan 24): Gold slipped from a two-month peak on Tuesday as investors took stock of US President Donald Trump's first policy moves and a recovery in the dollar from recent lows.
Trump formally withdrew from the Trans-Pacific Partnership trade deal on Monday and told US manufacturing executives he would impose a hefty border tax on firms that import products after moving American factories overseas.
"It's all been flagged and it's all playing out according to the well-rehearsed script of Trump and his advisers," Robin Bhar, Societe Generale's head of metals research, said.
"The high in gold is an opportunity to take a bit of profit," Bhar said, adding that price was stuck in a US$1,120–US$1,220 range.
Trump's protectionist statements and a lack of detail on policy have led some investors to opt for gold, which is often seen as an alternative investment during times of geopolitical and financial turmoil. It rose to its highest level since Nov 22 during Tuesday's session before giving back gains.
Spot gold was down 0.4% at US$1,212.6 an ounce from an earlier high at US$1,219.59. US gold futures slipped 0.2% to US$1,213.
The dollar index, which measures the greenback against a basket of currencies, inched up 0.2% at 100.340. In the previous session, it hit a more than seven-week low of 99.899.
"Regardless of Trump, the main story for gold is negative interest rates in the US We are not expecting the Fed to raise rates in March and it's just going to be two hikes and that's roughly priced in to the market," said Dominic Schnider of UBS Wealth Management in Hong Kong.
Volumes and buying demand on the Shanghai Gold Exchange are expected to start drying up between now and the week-long Lunar New Year break, MKS PAMP Group trader Alex Thorndike said.
Among other precious metals, silver shed 0.4% to US$17.13 per ounce, while platinum gained 0.6% to US$982.7.
Palladium was up 0.4% at US$781 an ounce after hitting US$795.60, its highest since May 2015, in the previous session.