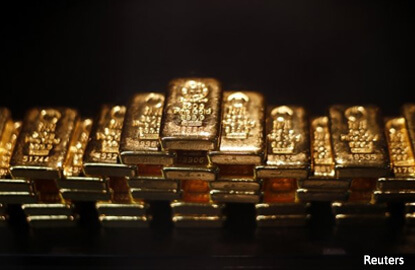 LONDON (Feb 3): Gold eased back from the previous session's 11-week high on Friday ahead of US payrolls data for January due later and as the US dollar recovered some lost ground against the euro and yen.
The metal hit its highest since Nov 17 on Thursday at US$1,225.30 an ounce after a Federal Reserve policy statement that disappointed investors hoping for clearer signs on interest rate hikes knocked the US dollar to a 12-week low.
The US currency recovered some poise ahead of the payrolls numbers due at 1330 GMT, helping to push spot gold 0.2% lower at US$1,213.70 an ounce by 1015 GMT.
US gold futures for April delivery fell by US$4.10 an ounce to US$1,215.30.
"A lot today is going to hinge on the macroeconomic news, particularly the non-farm payrolls," Mitsubishi analyst Jonathan Butler said.
"If we see another positive number, that could argue in favour of a rate hike during the first half of this year, and that may put some downward pressure on gold."
A Reuters survey of economists suggested that non-farm payrolls probably increased by 175,000 jobs last month, picking up from the 156,000 jobs added in December.
Though markets are predicting a move in June, a strong US payrolls report would increase the possibility of a rate increase as early as March.
Gold is highly sensitive to rising US interest rates, which increase the opportunity cost of holding non-yielding bullion while boosting the US dollar, in which it is priced.
Holdings of the world's largest gold-backed exchange-traded fund, SPDR Gold Shares, rose for a second day on Thursday up 1.5 tonnes to 811.22 tonnes.
However, interest in gold in major consumer Asia was muted overnight, MKS said in a note, despite the return of Chinese buyers to the market after the Lunar New Year holiday.
"With China returning for their first day's trade in a week, it was surprising to see very little interest one way or the other from them," it said.
"Volumes were very light on the (Shanghai gold) exchange, and the premium throughout the morning remained around US$13-15 over the spot price."
Silver was down 0.6% at US$17.33, having reached its highest in more than 11 weeks at US$17.73 in the previous session.
Platinum was down 0.5% at US$994.80, having hit a 12-week high of US$1,011.60 on Thursday, while palladium was 1.8% lower at US$743.72.