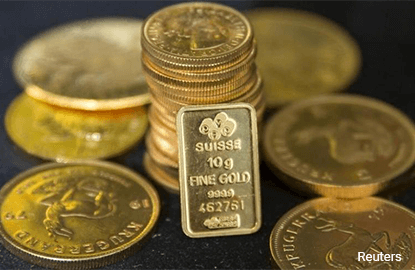 LONDON (March 13): Gold climbed on Monday as uncertainty created by elections in Europe fuelled investor  interest, but the prospect of imminent rate rises later this week kept prices near the five-week lows touched last week.
Spot gold was up 0.3% at US$1,208.41 per ounce by 1021 GMT. That compares with US$1,194.55 last Friday, its lowest since Jan 31. US gold futures were up 0.6% at US$1,208.10 an ounce.
Investors are focusing on Wednesday's Dutch parliamentary elections. The risk of a eurosceptic party coming to power in the Netherlands is small, but a strong election performance could renew concerns about the popularity of the far-right in French presidential elections in April and May.
Wednesday is also the second day of the US Federal Reserve's two-day meeting. A decision to raise rates will boost the US currency, which when it rises makes US dollar-priced commodities more expensive for non-US firms.       
"A rate rise from the Fed is pretty much priced in, we're probably going to see two more hikes this year," said Oxford Economics analyst Daniel Smith. "A period of higher rates will tend to mean pressure on gold prices."
The statement from the Fed due to be released at 1800 GMT and a briefing at 1830 GMT will be scrutinised for any changes in thinking among policymakers.
"A Fed hike on Wednesday is fully discounted by the market... the only thing that might prompt a surge in the dollar and rates is if the FOMC members lift the number of rate hikes they expect this year," ICBC Standard Bank said in a note.
"Last time they went up from two hikes in 2017 to three. A rise to four is possible; we certainly think that the Fed will lift rates four times this year."
Traders said gold would have to close above US$1,209, the 55-day moving average, to make further headway on the upside. Downside support remains at the psychological level of US$1,200 an ounce.
Recent selling by investors can be seen in the holdings of SPDR Gold Trust, the world's largest gold-backed exchange-traded fund, which fell 1.06% to 825.22 tonnes on Friday.
Hedge funds and money managers also slashed their net long positions in COMEX gold from the highest in three months in the week to March 7, US Commodity Futures Trading Commission data showed on Friday.
Silver rose 0.4% to US$17.10 an ounce on Monday, platinum gained 0.4% to US$945.80 an ounce and palladium added 0.9% to US$750.7 an ounce.