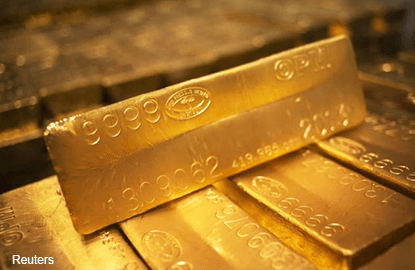 (Feb 8): Gold on Wednesday held near three-month highs hit the session before, buoyed as political and economic uncertainty in the United States and Europe stoked safe-haven demand.
Spot gold had edged up 0.1% to US$1,234.20 per ounce by 0307 GMT. On Tuesday, the metal touched its highest since Nov 11 at US$1,235.78.
US gold futures were mostly unchanged at US$1,236.30 an ounce.
"The biggest momentum behind gold is the fact that the Fed did not raise rates in the recent meeting, some uncertainties brought by US President Donald Trump's policies and a weaker (US) dollar," said Jiang Shu, chief analyst at Shandong Gold Group.
"Gold prices will continue to rise until mid-February on uncertainties in the US and Europe. But, once January CPI data is released, it will give an idea about the possibility of a rate hike in March," Shu added.
Controversy over Trump's temporary travel ban on people from seven Muslim-majority countries has recently boosted appetite for bullion as a safe-haven asset, while political uncertainty in Europe amid upcoming elections has buoyed the US dollar.
Weaker output in manufacturing and construction drove the biggest monthly drop in German industrial production in nearly eight years in December, dashing prospects for robust growth in the final quarter of 2016.
The US trade deficit fell in December as exports hit their highest level in more than 1½ years amid record shipments of technology products, but strengthening domestic demand points to further rises in imports, which could constrain economic growth.
Federal Reserve Chair Janet Yellen will present the US central bank's semiannual report on monetary policy and the economy in testimony to the Senate Banking Committee on Feb 14, the panel said on Tuesday.
Gold is highly-sensitive to rising US rates, which increase the opportunity cost of holding non-yielding bullion while boosting the US dollar, in which it is priced.
A bullish target at US$1,249 per ounce has been temporarily aborted for spot gold and will only be resumed when the metal breaks above resistance at US$1,237, according to Reuters technical analyst Wang Tao.
Holdings of SPDR Gold Trust, the world's largest gold-backed exchange-traded fund, climbed 1.01% to 826.95 tonnes on Tuesday from Monday. Holdings rose for a fifth straight session.
Spot silver slipped 0.1% to US$17.69, after marking its highest since Nov 11 at US$17.79 in the previous session.
Platinum rose 0.6% to US$1,007.20, after touching its highest since Nov 9 at US$1,015.20 the session before.
Palladium fell 0.1% to US$759.78.