This article first appeared in The Edge Financial Daily, on April 6, 2020.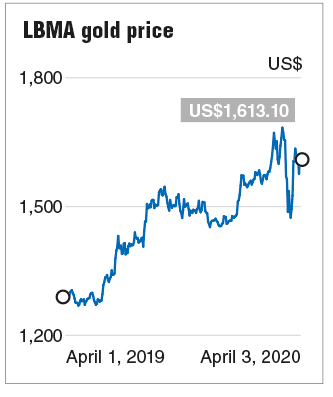 KUALA LUMPUR: Investors in Malaysia looking to acquire gold may experience some difficulty in getting their hands on the precious metal, as a supply halt caused by the global lockdown to combat Covid-19 is made worse by a recent surge in demand here.
People flocked to gold even as physical prices' premium to paper price more than doubled, a scene witnessed globally and in Malaysia, as production in major mints hit the brakes on production and revised selling prices, traders said.
"In the previous rush, investors were chasing gold for the price upside, and mints were open for sale. Currently, investors are also buying due to fear, but the mints are not producing new supplies.
"We have no certainty when the mints will reopen to accept new orders. This is the major uniqueness," said KH Lau, the founder and managing director of precious metals trading company, Rolling Silver Holdings Sdn Bhd.
Speaking to The Edge Financial Daily, Lau said Rolling Silver, which operates BuySilverMalaysia.com, had sold out 90% of its inventory by March 17 — the day before Malaysia enforced the ongoing movement control order.
Other traders, like Malaysia Bullion Trade, have also seen a huge surge in demand at the time.
"We had a few months' worth of sales happen in the last three days before the lockdown was enforced," said Malaysia Bullion Trade founder Dean Arif.
"It was maybe a 10-fold increase in demand [compared with during the start of 2020]," he told The Edge Financial Daily. The trader has already informed clients that it is out of stock of all physical gold and silver until end-April.
It has been reported that three of the world's largest gold refineries — Valcambi, Argor-Heraeus and PAMP — had suspended production in Switzerland's canton of Ticino bordering Italy, where the Covid-19 has killed more than 13,000 people in Europe's worst outbreak.
"These are the Toyota, Volkswagen and Nissan of the industry," said Rolling Silver's Lau.
"Next, there are the mints in Perth, Australia, Canada, and the US. All these mints are no longer taking order at this point as demand outstrips supply and market prices are moving rigorously," he added.
Still, for interested buyers, traders are still taking orders — but delivery will come in later than usual, and the price also includes a higher premium.
"We are still getting enquiries on our products every single day," said Dean Arif. "Customers will be [put] on a waiting list."
Meanwhile, trading group Public Gold is taking orders based on the price when the order was made. "For small items that are available, we can still ship through courier services. Those interested to trade with us can lock the price at current time, while payment and delivery happen after the MCO (movement control order) is lifted," said Public Gold founder and chairman Datuk Louis Ng.
According to pundits, gold prices have been caught in a see-saw between safe-haven flows and liquidity needs amid high volatility in the wider markets and uncertainties in the global economy. The US dollar, meanwhile, has been retreating as the US Federal Reserve sought to address liquidity concerns, with another quantitative easing measure en route.
At US$1,610.60 (RM7.026.24) per troy ounce (31.1 grams) at the time of writing, gold spot price had retreated some 2% in the last 30 days, but is up over 24% over the one-year period.
However, a quick check on the three traders showed that the street price for one troy ounce exceeded RM7,500 at the time of writing, representing a premium of RM500 or more.
"In a normal market, we can expect to obtain the gold for RM7,200-7,250 for the dealer to profit.
"However, at this time, it gapped further due to one main reason — there is just no more physical stock to fill this demand," said Rolling Silver's Lau. "Mints worldwide have adjusted selling prices, never mind the paper price."
Back to normal soon?
Considering the highly liquid market condition as governments try to contain the Covid-19 outbreak, the traders have differing opinions on when the precious metals supply chain will normalise.
"Assuming we [in Malaysia] are to break free from the MCO from April 15, you will expect a dry spell for gold and silver for the coming two, three months, at least," said Lau.
Lau was referring to investment-grade gold and silver bullion, which is imported and follows the standards set by the London Bullion Market Association.
For Public Gold, which also sources its products from markets like China and Australia, chairman Ng said: "The market is quite difficult to balance out, because we will need to see how serious the lockdown is around the world, as it affects all jewellers, manufacturers, traders, and retailers."
Meanwhile, Malaysia Bullion Trade's Dean Arif shared a more optimistic view.
"It is not so much about the shortage of gold, but rather a sudden demand for gold in places where it cannot be quickly supplied in the desired form.
"It is good to remember one undeniable fact: new gold mined increases the total supply of gold by only 1% annually. The remaining 99% already exists, in large warehouses, jewellery, and people's homes around the world. The laws of supply and demand also move this 99%.
"If gold is not available, [it's because] the current owners believe the price of gold is too low or people simply do not want to exchange their gold for the weakening ringgit or [US] dollar.
"It is reasonable to assume that once the worst peak of the panic caused by the Covid-19 subsides, factories open, air traffic normalises, and the gold market will return to normal," said Dean Arif.