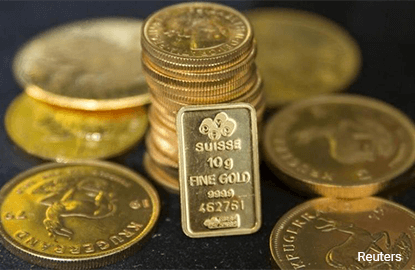 (Feb 7): Gold on Tuesday slipped from a near three-month high hit in the previous session, although it was supported by safe-haven demand on the back of rising global political uncertainty.
Spot gold was down 0.26% at US$1,232.26 per ounce at 0311 GMT. In the previous session, the metal touched US$1,235.73, its highest since Nov 11.
US gold futures rose 0.17% to US$1,234.2.
The dollar index, which measures the greenback against a basket of currencies, was up 0.2% at 100.070.
Political uncertainty in the United States has been fuelled by President Donald Trump's policies, the most controversial of which is a temporary ban on entry by people from seven mostly Muslim countries.
"The two main determinants for gold prices at the moment are uncertainty surrounding the Trump administration, which is seen as a positive for gold, and the timing of a hike in US interest rates," said Mark To, head of research at Hong Kong's Wing Fung Financial Group.
"Right now, gold is trading range-bound, with the bullish prospects most people expect."
Philadelphia Federal Reserve Bank President Patrick Harker on Mornday said he would be open to raising interest rates again at the US central bank's March meeting if growth in jobs and wages continues.
The Fed raised rates for only the second time since the financial crisis in December, and most Fed policymakers agree with Harker that three more rate hikes this year would be appropriate.
"The prospects of interest rate hikes in the US is more likely than most people expect and there could be one in March," To said.
"This should drive caution for the gold bulls since with prices rising to the US$1,230 range recently, maybe more people are looking forward to the US$1,250 range and there could be some kind of reversal or correction any time soon," he added.
Spot gold may continue to rise towards a resistance at US$1,249 per ounce, as indicated by a Fibonacci retracement analysis, according to Reuters technical analyst Wang Tao.
"A daily close above the resistance level of US$1,233 can open up a technical move towards the 200-day moving average of around US$1,260," said Jeffrey Halley, senior market analyst, OANDA.
Among other metals, silver slipped as much as 0.2% to US$17.69. Earlier in the session, it reached US$17.76, its best since Nov 11.
Platinum fell as much as 0.2% to US$1,008.85, after hitting its highest since Nov 9 at US$1,015.20 early in the day.
Palladium dropped up to 0.4% to US$768.97.