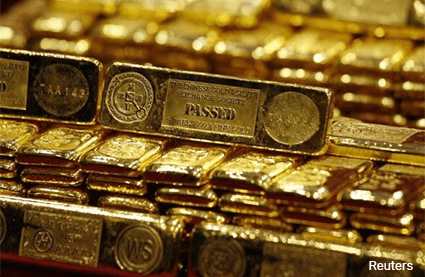 (Feb 8): Gold rallied on Wednesday, hitting a fresh three-month peak as political risks posed by elections in Europe and worries over US President Donald Trump's policies stoked safe haven demand.
Investors are concerned about the strong showing in the French presidential race of far-right candidate Marine Le Pen, who has promised to take France out of the euro zone and to hold a referendum on European Union membership.
The euro recovered after falling against the dollar on political risks, as the single currency gained from investors' wariness over Trump's protectionism and immigration policy and his hints that he would prefer a weaker dollar.
"There's underlying demand for gold as a hedge against political uncertainties on both sides of the Atlantic," said Ole Hanson, head of commodity strategy at Saxo Bank.
"Retracements have been quite shallow the past couple of weeks, especially the signal that gold wasn't going down when the dollar started going up," he added.
Spot gold rose 0.7% to US$1,241.70 per ounce by 1508 GMT, having earlier touched its highest since Nov 11 at US$1,244.67.
US gold futures rose 0.6% to US$1,243.80 an ounce.
Indicating heightened worries over the French elections, the gap between French 10-year government bond yields and their low-risk German equivalents was at its widest since November 2012.
"Gold prices will continue to rise until mid-February on uncertainties in the US and Europe. But once January CPI data is released, it will give an idea about the possibility of a rate hike in March," said Jiang Shu, chief analyst at Shandong Gold Group.
Holdings of SPDR Gold Trust, the world's largest gold-backed exchange-traded fund, climbed 1.01% to 826.95 tonnes on Tuesday from Monday. Holdings rose for a fifth straight session.
The rise in holdings, along with recent data from US Commodity Futures Trading Commission (CFTC), show an increase in long positions for managed money and a decrease in short holders, MKS PAMP Group trader Alex Thorndike said.
Spot silver rose 0.4% to US$17.80, after marking its highest since Nov 11 at US$17.87.
Platinum rose 1% to US$1,014.80, after touching its highest since Nov 9 at US$1,018.60.
Upside potential for platinum is limited due to an envisaged decline in investment demand from Japan, Commerzbank said in a report. "Platinum should be lent buoyancy primarily by the rise in the gold price that we are forecasting," it said
Palladium rose 0.6% to US$765.75.