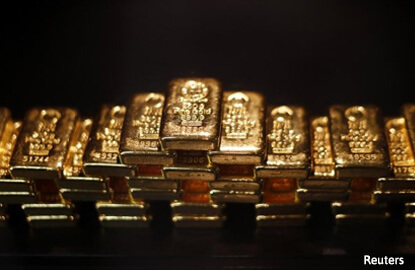 LONDON (Feb 23): Gold prices hit a three-month high on Thursday after the minutes of the latest Federal Reserve policy meeting further dampened expectations of an interest rate hike in March, lowering US bond yields and stalling upward momentum in the dollar.
Spot gold was on track for its biggest daily gain since Feb 6, rising 0.9 percent by 1611 GMT to US$1,249.05 an ounce, its highest since Nov 11. US gold futures rose 1.3 percent to UA$1,250.       
"The dollar's backed off, bond yields have backed off, and that's given a bit of support for gold," said Robin Bhar at Societe Generale. A weaker dollar makes gold cheaper for holders of other currencies, while lower yields reduce the opportunity cost of holding non-yielding bullion. Higher interest rates would lift yields.        
Gold had been trapped in a range of around US$1,220-US$1,240 since early February, with unease over the European and US political outlook supporting demand for bullion as a safe haven while the prospect of rising interest rates kept a lid on gains.
Thomson Reuters technical analyst Wang Tao said gold was likely to break above this trading band, which could give it upward momentum.
"A push above US$1,240-US$1,245 will be required to entice fresh interest," Sam Laughlin at MKS PAMP said in a note.
The move higher could however be derailed if US stocks continue their rally, enticing investment away from gold, said Jonathan Butler at Misubishi.     
"This may in hindsight look like a one-day wonder," he said.
Investors were looking ahead to an address by US President Donald Trump to Congress on Feb 28.             
"Currencies, the bond market, gold, will all take their cue from what he says on Tuesday," Bhar said.
More details on promised government spending, infrastructure investment or tax cuts would likely push the dollar and US asset prices higher and gold lower.
"Should Trump become the feared 'unguided missile', which we still believe is unlikely, safe-haven demand would increase even more," Julius Baer analyst Carsten Menke said in a note.  
Silver was up 0.5 percent at US$18.11 an ounce. Platinum was 0.7 percent higher at US$1,009.60 an ounce, and palladium was up 0.8 percent at US$775.