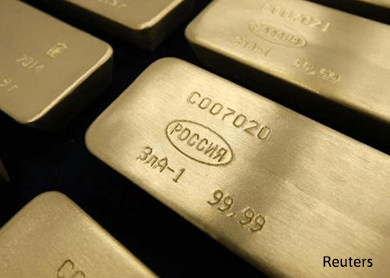 LONDON (Nov 12): Gold hit a three-month low on Thursday, under pressure from expectations that the US Federal Reserve is on track to raise interest rates next month for the first time in nearly a decade.
Its losses were limited, however, by technical support ahead of the year's low of US$1,077 an ounce, and by perceptions that the metal may have largely priced in a December rate hike, analysts said.
Spot gold hit a low of US$1,083.45 an ounce and was fetching US$1,084.91 at 1244 GMT, little changed from late Wednesday. US gold futures for December delivery were down 50 cents an ounce at US$1,084.40.
The metal has shed nearly 5% since the start of November, when an upbeat US jobs report boosted expectations the Fed will raise rates this year. That would lift the opportunity cost of holding non-yielding bullion, while boosting the dollar.
"The Fed has been driving the bulk of the move down from around US$1,200 to below US$1,100," Standard Chartered analyst Paul Horsnall said. "But ultimately, we think the Fed will become a positive for gold."
"There has been so much concentration on when the first hike is coming, we don't think the debate has moved on to when the second and third hikes will come. We don't think there will be a third hike, and we think in fact the Fed will be in cutting mode by the end of next year. That's very positive for gold."
Traders will be eyeing remarks by at least six Fed officials, including Fed Chair Janet Yellen and Vice Chair Stanley Fischer, later for clues on monetary policy.
Investors remain wary of gold. Assets in the biggest gold-backed exchange-traded fund, SPDR Gold Shares, fell to 663.43 tonnes this week, the lowest since September 2008.
"It will be important to monitor this flow diligently, especially as we get closer to the (Fed's) final meeting for the year," UBS said in a note.
Silver was up 0.6% at US$14.37, recovering from Wednesday's 2½-month low of US$14.22. Palladium was down 0.2% at US$571.95, after sliding 3.7% in the previous session.
Platinum extended losses to US$874.70, down 0.4%, having earlier fallen to US$872.50, a near seven-year low. Both platinum group metals have been hit by outflows from exchange-traded funds.
Platinum's discount to gold rose back to US$213 an ounce on Wednesday, its highest in over a month. The discount hit its highest on record in October at US$233.