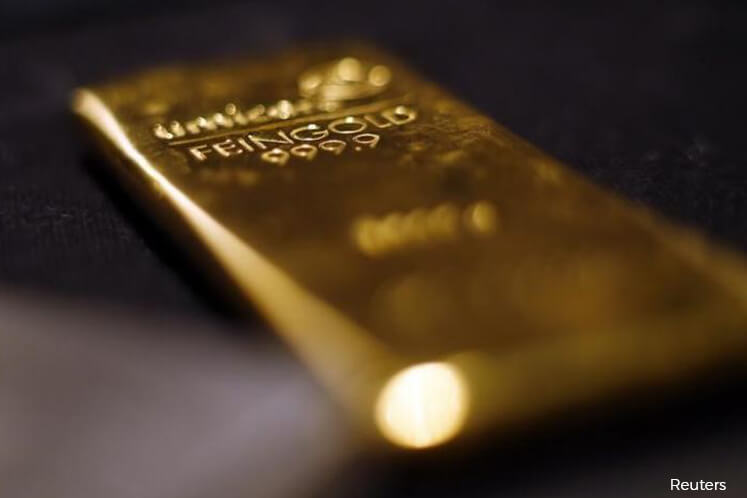 LONDON (April 7): Gold hit a five-month high on Friday as investors looking for safety piled into the precious metal after the United States fired dozens of cruise missiles at a Syrian airbase, escalating tensions with Russia and Iran.
Russia, a staunch ally of Syria, said the strike had seriously damaged relations between Washington and Moscow after the US retaliated over a deadly chemical attack on a rebel-held area             
Spot gold was up 1.07% at US$1,264.70 per ounce by 1012 GMT, after earlier climbing to its highest since Nov 10 at US$1,269.28 and on track for a fourth straight week of gains. US gold futures climbed 1% to US$1,267 an ounce.
"There is the risk that the fight over Syria will lead to a larger confrontation in which Iran and Russia, and the US, could get involved, so it could have more serious implications overall," Commodity Discovery Fund founder Willem Middelkoop said. "That explains why gold moved quite fast after the news broke."
Gold is often used as a hedge against political and financial uncertainty and security risks. It has benefited alongside other assets considered safe, such as the yen and US Treasury bonds.  
Some analysts say the safe-haven bid will not be sustained.
"When you look back at the historical record, these bids for gold based on 'edge-of-the-world' or wars tend to be short-lived and are followed by profit taking," Societe Generale's head of Metals Research Robin Bhar said.
Bhar said an important indicator for gold would be US non-farm payrolls data due later on Friday, expected to show a rise of 180,000 jobs in March.          
An above consensus gain is likely to reinforce expectations of higher US interest rates, which could pressure gold. Higher interest rates reduce investor appetite for non-interest bearing gold.
Higher US rates may also mean a stronger US currency, which when it rises makes US dollar-denominated gold more expensive for holders of other currencies, potentially weakening demand.
Gold is also supported by technicals.
"Gold has broken the 200-day moving average intra-day and has tested its upper resistance at US$1,264, the Feb 28 high," said Jeffrey Halley, senior market analyst at OANDA. "A daily close above these levels can open a technical move towards US$1,300 with support now at US$1,250," .
MKS PAMP analyst Tim Brown said if gold consolidated above US$1,260 it could be a catalyst for a push higher.
Spot silver rose 0.9% to US$18.41 an ounce, after touching US$18.47, the most since Feb 27.
Platinum inched up 0.5% to US$961.24, while palladium added 0.3% to US$805.50.