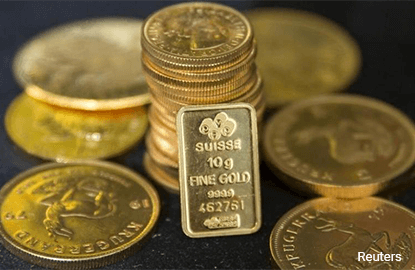 LONDON (Jan 20): Gold prices dipped on Friday as investors expect US President-elect Donald Trump to calm markets with a return to conciliatory language in his inaugural address.
If Trump repeats his reassuring tone in November immediately after the election, there will be scant need for the safe haven aspects of gold, analysts said.
"On the whole we'd expect an appropriately presidential tone to be struck and that the US dollar will gain and that bullion will once again be under pressure along with the rest of the precious metals complex," said Jonathan Butler, commodities analyst at Mitsubishi in London.        
"However, if we get any of the campaign trail divisive rhetoric, that's probably going to sink that reflationary trade and boost gold as a safe haven."
Trump is due to take the oath of office at 1700 GMT, after the close of European markets.
Spot gold was down 0.5% at US$1,199.09 per ounce by 1100 GMT, while US gold futures fell 0.2% to US$1,199.50.
"The incoming US administration is still a relatively unknown factor, certainly in comparison to other incoming administrations in recent decades," HSBC analyst James Steel said in a note.
Also weighing on gold was a firmer US dollar, which makes gold more expensive for holders of other currencies.
The dollar index, which measures the greenback against a basket of currencies, added 0.3% to 101.40.
Better-than-expected US jobs, housing and factory data reinforced the view that the US economy is sufficiently robust to warrant interest rate rises.
Gold is highly-sensitive to rising rates, which lift the opportunity cost of holding non-yielding assets such as bullion, while boosting the US dollar, in which it is priced.  
The metal has risen more than 7% since dropping to its lowest in more than 10½ months in December, but has failed to break above a key level in recent days.
"Gold has dropped back from quite a significant technical level around US$1,220, a critical retracement last year's high to low move. I would say from here, the risks are skewed to the downside in the short term," Butler added.
In other precious metals, silver shed 0.8% to US$16.87 an ounce.
Platinum slipped 0.5% to US$954.40 an ounce after touching a low of US$943.75 in the previous session, its worst since Jan. 5.
Palladium edged down 0.1% to US$752.45 an ounce.