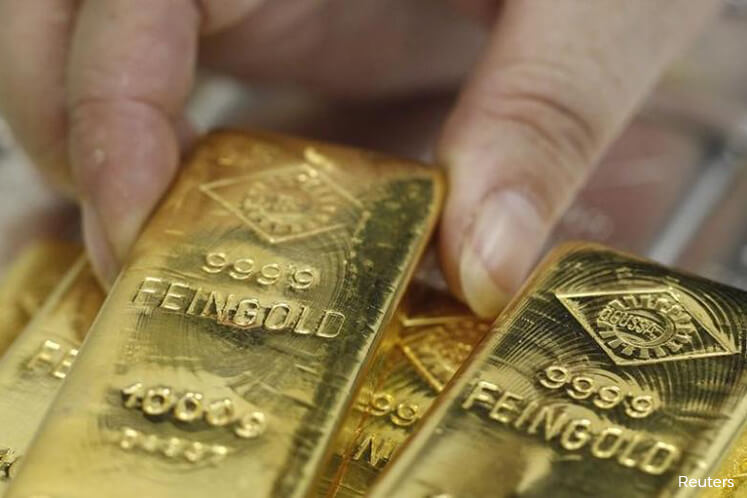 LONDON (March 17): Gold rose on Friday and was on course for its first weekly gain since February as the US dollar hit a five-week low after the US Federal Reserve's cautious message on interest rates, making bullion cheaper for holders of other currencies.
The Fed raised US rates on Wednesday, as expected, but left its earlier forecast of three rate increases this year unchanged, disappointing some investors who had hoped for hints of a possible fourth hike in 2017.              
Spot gold was up 0.3% at US$1,230.17 an ounce by 1311 GMT, taking this week's gain to 2.1%. On Thursday the metal hit US$1,233.13, its highest since March 6.
US gold futures rose 0.2% to US$1,229.80.
"What's happening now is just an inverse trade against the dollar," said Jiang Shu, chief analyst at Shandong Gold Group.
US President Donald Trump's failure so far to push through promised economic stimulus measures may have influenced the Fed, said Tom Kendall at ICBC Standard Bank.
"If infrastructure spending and tax cuts are being pushed further and further out, it gives the Fed more reason to be cautious. That is a bit of a vacuum that gold can rally into," he said.
Failure to deliver swift tax cuts and regulatory reform could puncture a rally in US stocks, said Edward Meir at INTL FCStone.
"Any retracement in stocks could help gold build on its recent move," he said in a note.
Investors were also looking ahead to the Group of 20 (G20) finance leaders' meeting in Germany this weekend, where any attempt by the Trump administration to pursue protectionist policies could fuel demand for gold as a safe haven.
However, strong US economic growth will inevitably push the Fed to ratchet up rates, pressuring gold, said ICBC's Kendall, who sees gold averaging US$1,140 in the second quarter.
Rate rises lead to higher bond yields, which increase the opportunity cost of holding non-yielding bullion and tend to boost the US dollar, in which gold is priced.
Holdings of the world's largest gold-backed exchange-traded fund, New York-listed SPDR Gold Shares, fell 0.28% on Thursday, the first outflow this week.             
Silver was up 0.4% at US$17.35 an ounce, while platinum gained 0.1% to US$954.80 and palladium advanced 1.8% to stand at US$777.70.