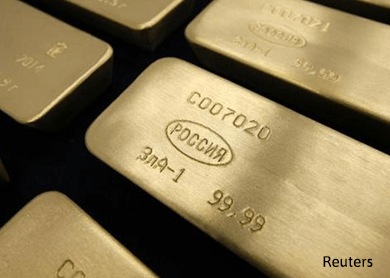 MANILA (Aug 28): Gold was stuck near recent lows on Friday and was on track to post its biggest weekly drop in five as strong US economic data backed the case for a near-term increase in interest rates.
A looming US rate hike has dimmed the appeal of non-interest bearing assets as gold, which may explain the fall in the metal from a recent seven-week high even as global equities tumbled on fears over a slowing Chinese economy.
The upward revision in US economic growth in the second quarter to 3.7% from the initial estimate of 2.3% spurred market expectations that the Federal Reserve could still raise rates this year despite the market turmoil.
Spot gold was up 0.4% at $1,129.60 an ounce by 0226 GMT, but down almost 3% for the week.
The metal touched a one-week low of $1,117.35 on Wednesday and has lost more than 3% since hitting a seven-week top on Aug 21.
The robust second-quarter GDP, along with recent strong housing and manufacturing data, will likely prod the Fed to raise interest rates next month, said INTL FCStone analyst Edward Meir.
"For all the talk of market turmoil, it is important to note that the Fed does not typically look at overseas developments to make its rate decision and we don't think this time will be any different," Meir said in a note.
"We are therefore in the minority camp calling for a 25 basis point rate increase next month, with the odds of a hike improving even more should equity markets recover a good portion of their losses by then. This should be a net negative for gold, yet another reason for us to view the complex more bearishly short-term."
US gold for December delivery edged up 0.6% to $1,129.20 an ounce.
Concerns over a possible US rate increase may have sparked a global stock market rout rather than the devaluation of China's yuan, said Yao Yudong, head of the bank's Research Institute of Finance and Banking.
Yao said the Fed should delay any rate hike to give fragile emerging market economies time to prepare.
Holdings of SPDR Gold Trust, the world's largest gold-backed exchange-traded fund, stood at 21.95 million ounces on Thursday, the highest in five weeks.
Spot silver was steady at $14.48 an ounce, having fallen to a six-year trough of $13.93 on Wednesday. Silver has dropped more than 5% this week, its steepest such decline since February.
Palladium climbed 3% to $576.50 an ounce, extending Thursday's 5% rebound from five-year lows. Platinum rose 0.7% to $1,008.20.