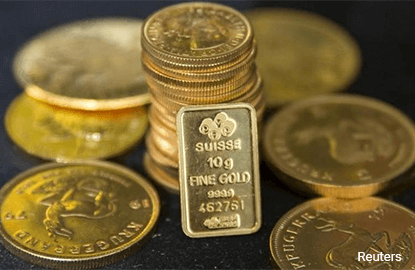 (Feb 15): Gold prices edged lower on Wednesday as the US dollar ticked higher after US Federal Reserve Chair Janet Yellen hinted at a hike in interest rates in an upcoming meeting of the central bank.
Spot gold fell 0.14%, to US$1,226.44 per ounce by 0257 GMT, while US gold futures rose 0.17% to US$1,227.50.
"The focus is really on the US fiscal policy, which is to be announced in the next couple of weeks. And if that stokes up the inflation expectations, we expect gold to suffer and consolidate for a while," said Richard Xu, fund manager at China's biggest gold exchange-traded fund, HuaAn Gold.
Xu added, however, that the fund still expects "gold will pick up momentum in the second half of the year."
The Federal Reserve will likely need to raise interest rates at an upcoming meeting, Yellen said on Tuesday, striking a more hawkish tone than investors had expected, although she did flag considerable uncertainty over economic policy under President Donald Trump's administration.
Gold is highly sensitive to rising US interest rates, which increase the opportunity cost of holding non-yielding bullion and boost the US dollar.
The dollar index was flat at 101.25, near a 3½-week high of 101.38 hit on Tuesday following Yellen's remarks.
Investors are eyeing a batch of US economic data due out later on Wednesday, including consumer price index (CPI) and retail sales, for any fresh catalysts.
Spot gold may break a support at US$1,220 per ounce and fall more towards the next support at US$1,213, according to Reuters technical analyst Wang Tao.
Holdings of the largest gold-backed exchange-traded-fund (ETF), New York's SPDR Gold Trust GLD, rose 0.50% on Monday from Friday.
SPDR said on Wednesday it has been certified as sharia compliant, its latest effort to spur demand for bullion from investors in majority-Muslim countries.
In other precious metals, spot silver fell by 0.2%, to US$17.91 per ounce. The metal hit US$18.07 on Tuesday, its highest since Nov 11 last year.
Platinum fell 0.6%, to US$994.50 per ounce. Palladium fell 0.1%, to US$778.10 per ounce.