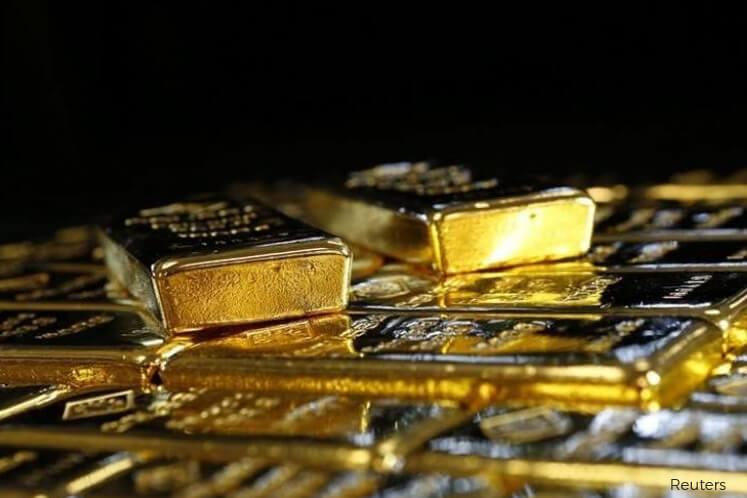 LONDON (April 6): Gold edged lower on Thursday, pressured by a slightly firmer US dollar and as some investors sold to redeem profits after bullion's recent challenge to the upside.
Spot gold inched down 0.1% to US$1,253.21 per ounce by 0955 GMT, retreating from an overnight peak of US$1,258.96.
US gold futures were up 0.5% at US$1,255.30, after climbing as much as 1% to US$1,260.80 earlier in the day.
"The slight uptick in the dollar and some profit taking after the move late yesterday is probably bringing in that bit of weakness," said Jonathan Butler, commodities analyst at Mitsubishi in London.
The markets were waiting for US non-farm payrolls data on Friday, which will likely be in line with expectations, he added. "So we may stay around this US$1,250 to US$1,260 level for some time, just as we have done since the end of March."    
Investors were cautious ahead of the meeting between US President Donald Trump and Chinese President Xi Jinping due later on Thursday, the first between the world's two most powerful leaders.
Topping the agenda at Trump's Mar-a-Lago resort in Florida will be whether he makes good on his threat to use US-China trade ties to pressure Beijing to do more to rein in its nuclear-armed neighbour North Korea.             
Spot gold hit US$1,261.15 on Tuesday, its highest since Feb 27, but has failed to breach a key 200-day moving average of US$1,258.
"It just hasn't shown any ability to break the 200-day moving average and clearly shows that the price action is not being driven in isolation but has been driven by the US dollar," said Jeffrey Halley, senior market analyst at OANDA.
"It is kind of looking like gold is running out of steam in the short term."
The dollar index, which measures the greenback against a basket of currencies, was slightly firmer.       
Supporting gold was some safe haven interest on the back of a dip in stocks on Thursday, with risk appetite soured by signs the Federal Reserve might start paring asset holdings later this year just as the chance of early US fiscal stimulus seems to be evaporating.            
Spot silver dropped 0.3% to US$18.21 an ounce.
Platinum fell 0.8% to US$951.50, while palladium gave up 0.3% to US$802.50. It hit a more than two-year high of US$815.70 in the prior session.